Details
Ametrine is a bicolor macrocrystalline variety of Quartz that is a combination of the Quartz varieties of Amethyst and Citrine. Ametrine displays both the purple and yellow colorings that these minerals exhibit, often seen in very distinct divisions. Hailing primarily from the very specific locale of the Anahi Mine in Bolivia, Ametrine's occurrence is rare throughout the world. Geologists still hypothesize as to its exact formation, but popular thought is its dichroism is due to the presence of iron impurities in different states of oxidation from natural heating. Amethyst is Quartz with trace amounts of manganese. Citrine is the natural byproduct of Amethyst being heated. Ametrine is the physical representation of this process occurring. Amethyst will crystallize at a lower temperature than Citrine, and for this stone to display both of these Quartz varieties in the same specimen means a stone crystallized at different temperatures, pressures, and chemical environment at the same time. Its division of color can be highlighted by a skilled cut, making two equal halves of Amethyst and Citrine, often displayed rectangularly. It has been commercially available in the gem trade market since the 1980s, making it a relatively new gemstone. Its popularity is on the rise. 

Metaphysical 
Element: Fire/Air
Chakras: Sacral (2nd), Solar Plexus (3rd), Brow/Third Eye (6th), Crown (7th)
Keywords: Purifier, Balancer, Manifestation, Psychic Awareness, Chakra Alignment, Warmth, Energy, Good Luck, Love, Passion, Grounding, Spirituality, Mental Peace, Transformer Seeker Crystal
Ametrine is unique in its properties because it contains two different varieties of quartz within one specimen, thus both these varieties carry with them their own power. The power of Citrine is an energy stone that brings the wearer the raw power of the warmth of the sun. The energy of Amethyst attracts the highest actualization and the power of manifestation while keeping spirituality and wisdom grounded and focused. Ametrine is the stone of the zodiac sign of Libra. It encourages the balance of yin and yang, and like Citrine, aids in alignment of the chakras. Its Amethyst properties can create planetary alignment, connection with the divine, and inspire an enhanced meditative state. Expanding the higher mind with peace and serenity, and allowing the inner soul to feel secure and warm, are traits Ametrine carries. Ametrine is a Transformer Seeker Crystal meaning it holds the power to transform lives in a guided, focused direction by calming the mind, tapping into the highest potential, staying grounded and protected in astral travels, and harmonizing spirituality with intellect and ego. A great stone for meditation and healing purposes. Its high frequency can heal physical ailments, attract romantic love and passion, bring true purpose to life, align the Heavens with the Earth, the head with the womb, and the intellect and the spirit. A truly exquisite stone with majestic powers. 
Partner Stones: Smoky Quartz, Cacoxenite, Goethite, Moonstone, Auralite,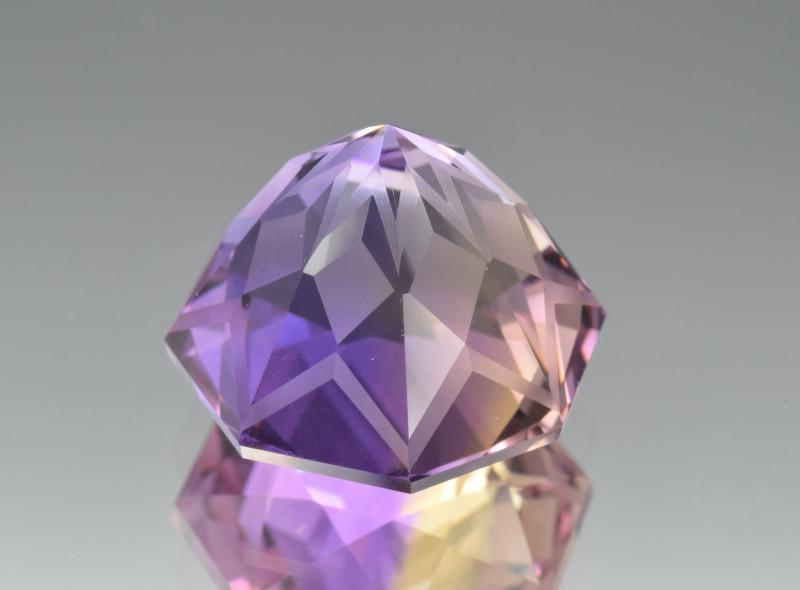 The Nerd Stuff 
Chemical Formula: SiO2
Color: Bicolor; Purple/Orange-Yellow
Hardness: 7
Crystal Habit: Hexagonal 
Refractive Index: 1.54-1.55
Specific Gravity: 2.63-2.65
Optic Character: Uniaxial
Transparency: Transparent to Translucent
Double Refraction: 0.009
Luster: Vitreous
Fracture: Conchoidal 
Cleavage: Indiscernible 
Mineral Class: Quartz

Resources
"The Gemstone Ametrine" https://www.minerals.net/gemstone/ametrine_gemstone.aspx
"Ametrine: Mineral Information Page", Gem and Mineral Miners, Inc., 2018,  https://www.mineralminers.com/html/amtminfo.htm
"The Crystal Encyclopedia" https://www.crystalvaults.com/crystal-encyclopedia/amethyst
Simmons, Robert, et al. The Book of Stones: Who They Are and What They Teach. North Atlantic Books, 2015.
Want some Ametrine from The Rutile Collection?
Naturally occurring ametrine is very rare and is only found in Bolivia such as this piece. This color difference comes from natural radiation in the ground causing the quartz crystal to be part amethyst and part citrine. This color difference is also achieved by the irradiation treatment of citrine to cause the purple amethyst color to emerge. This stone was precision cut, which is where the gemstones are cut at their correct refractive index with a precision cut machine so the ametrine's appearance is breathtaking! Set in a 14kt white gold pendant with 0.46ct of diamonds, this is a fantastic statement piece worthy of any high-end collection.