DETAILS
Barite is a mineral composed of Barium Sulfate, with the occasional addition of Strontium, and is the primary ore of the element Barium. Barite is a very common mineral found all throughout the world. It is popular amongst mineral collectors and serves many industrial uses. It is remarkably dense with a high specific gravity of 4.5. Barite's name is derived from the Greek word "Barys", meaning heavy. The spelling of Barite has been a topic of debate with some experts alluding to this mineral as "Baryte". Barite is found in sedimentary and metamorphic environments, within sedimentary rock layers and in hydrothermal and mesothermal metal ore veins. Barite comes in a variety of colors and crystal forms and is a notable characteristic of this mineral. One common desired form of Barite is called the "Desert Rose", a rosette aggregate displayed as a cluster of bladed barite crystals resembling a flower intergrown within sand. It is isomorphous with the sky-blue mineral Celestine and may partially replace it. Barite often replaces other minerals, and occasionally those minerals are organic in nature such as wood, fossils, or shells. Barite may fluoresce in some color varieties and phosphoresce in others. Industrial uses are vast for this dense mineral. Barite has the ability to block x ray and gamma ray emissions making it a useful addition within cement walls that are used around medical diagnostic imaging services. Its denseness makes Barite the weighted addition to paper, cards, cloth, or rubber as well as the main weighing agent in high density drilling mud for oil wells. Many excellent mineral specimens have been found of Barite in England, Italy, Romania, China, Morocco, Peru, and the United States.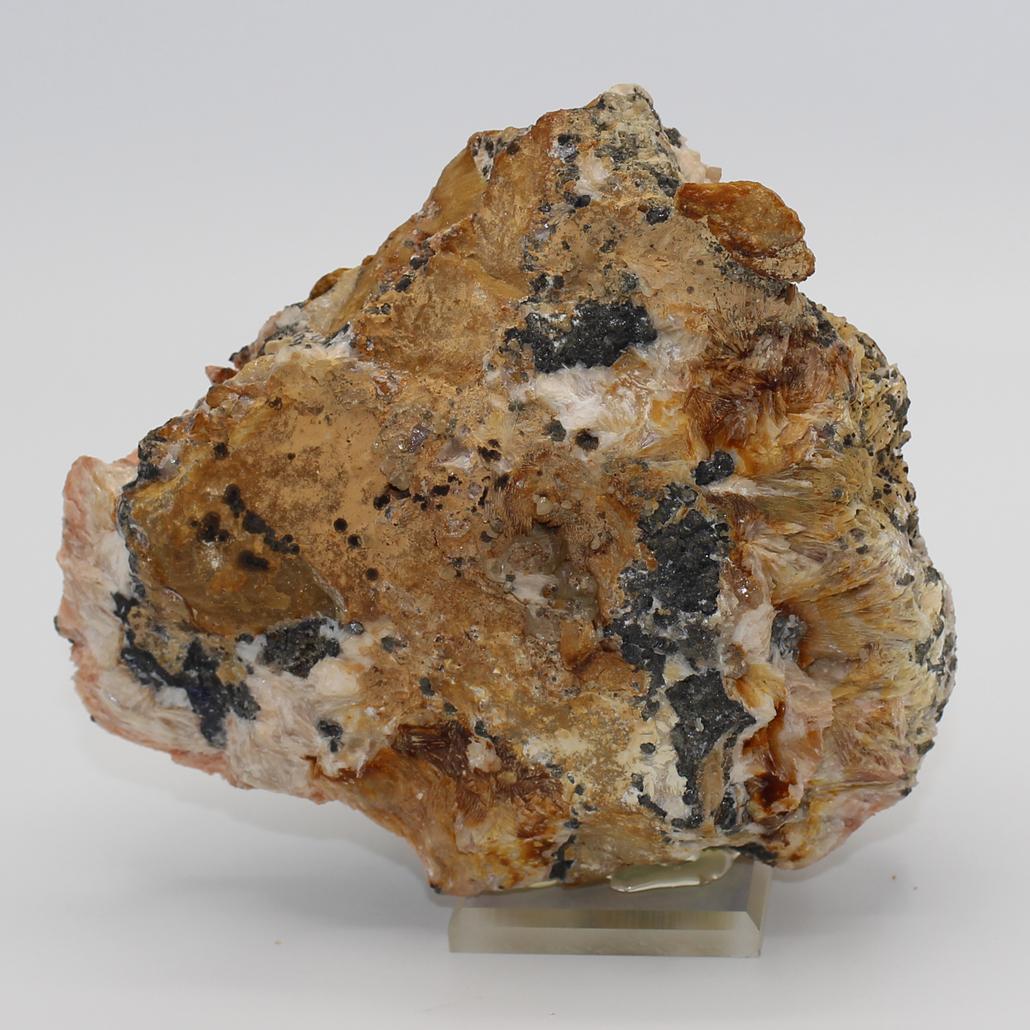 Element: Storm
Chakras: Third Eye (6th), Crown (7th)
Keywords: Stone of Cleansing, Energetic Alignment, Interdimensional Travel, Meditation, High Frequency, Divine Wisdom
Barite has many uses metaphysically as it activates and cleanses the higher chakras. The Third Eye and Crown chakras are the most stimulated with use of this mineral and can greatly promote spiritual and personal discoveries. Barite resonates at a high frequency that is cleansing to the aura, and can be beneficial for use in meditation to illuminate the self of deafening habitual patterns. Barite opens one's eyes to the glory of our Earthly existence while maintaining contact with the higher self. Barite can help with ascension and interdimensional travels within spiritual and dream realms. Barite's stimulating frequencies to the higher chakras allow for proper illuminations of life, soul, and ego and brings out deep inner visions while maintaining a grounded wholesome sense of self. Barite offers Divine Wisdom while physically offering hemispheric synchronization in the brain and is a great tool for those who have fallen victim to irrational thoughts and patterns or those in need of brain chemistry balancing. Barite is a stone of interdimensional travel and will assist anyone looking to explore spiritual realms.
Partner Stones: Phenacite, Azeztulite, Scolecite, Natrolite, Petalite, Amblygonite, Fluorite, Lapis Lazuli, Iolite, Blue Scapolite, Quartz, Blue Tourmaline, Sodalite, Blue Kyanite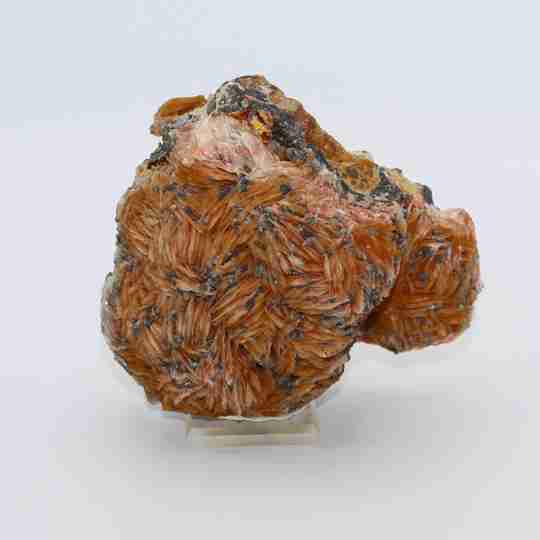 THE NERD STUFF 
Chemical Formula: BaSO4  
Color: Colorless, White, Yellow, Orange, Red, Pink, Purple, Brown, Blue, Green, Grey, Black, Multicolored, and/or Banded  
Hardness: 3-3.5
Crystal Habit: Orthorhombic
Refractive Index: 1.634-1.637
Specific Gravity: 4.3-4.6
Optic Character: Biaxial (+)
Transparency: Transparent to Opaque
Double Refraction: 0.012
Luster: Vitreous to Pearly
Fracture: Uneven
Cleavage: 1,1- Basal, 2,1- Prismatic, 3,1- Pinacoidal 
Mineral Class: Sulfates
RESOURCES
"Barite", Hobart M. King, 2020 <https://geology.com/minerals/barite.shtml>
"The Mineral Barite" <https://www.minerals.net/mineral/barite.aspx>

"Barite", Simmons, Robert, et al. The Book of Stones: Who They Are and What They Teach, North Atlantic Books, 2015.