DETAILS
Topaz is an Aluminum Silicate Fluoride Hydroxide crystal. Almost all Blue Topaz in the gem market today starts as a colorless or lightly colored Topaz that is irradiated to make it blue and heat-treated to bring out its vibrancy and stability of color. Blue Topaz does occur in nature but it is rare and highly valued. Frequently formed as eight-sided prismatic crystals with striations along its length, Topaz can be found in Brazil, Sri Lanka, Russia, Burma, Australia, Japan, Madagascar, Mexico, Africa, and the USA. Topaz is a smart choice for faceting as it comes from huge, flawless crystals. Some specimens have been found weighing thousands of carats and can be seen in the Smithsonian Institution's collection. Some of the largest gemstone pieces ever cut have come from Topaz. Care should be taken when cutting Topaz as its perfect basal cleavage makes it prone to chipping; however, a master cutter can display Topaz's pleochroic tendencies elegantly while retaining its crystalline strength. It is quite hard at an 8 on the Mohs Scale which makes it suitable and versatile for use in jewelry. Blue Topaz in the market today makes a great and inexpensive substitute for Diamonds. It is becoming increasingly popular in the jewelry world. Apart from blue, Topaz comes in a variety of colors where the orange-pink-red hued Topaz imparts the name Imperial Topaz and holds a higher price tag. Blue Topaz is the stone most used in jewelry. Natural Blue Topaz is extremely prized.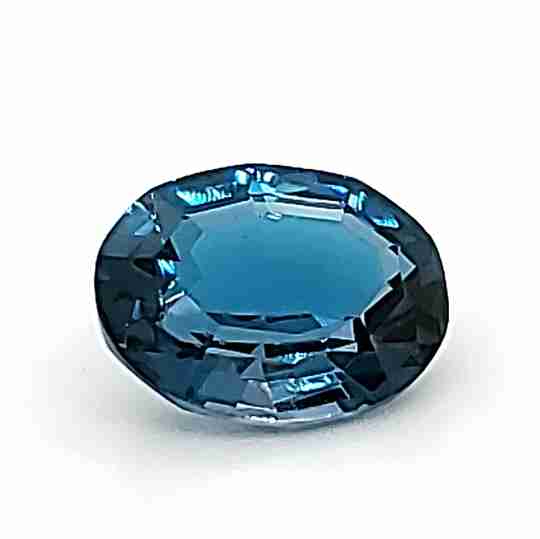 METAPHYSICAL 
Element: Fire
Chakras: Throat (5th), Third Eye (6th)
Keywords: Clear Communication, Increase Attention, Proper Expression, Enhanced Awareness, Psychic Abilities
Natural Blue Topaz has many uses metaphysically. It is resonant with the perfected pattern of the human body and energy systems and thus can help one achieve Earthly perfection as sacred geometry expresses. Blue Topaz can bring one back to their source, revealing deep inner truths and creating a natural, honest expression of self. Blue Topaz stimulates the Throat and Third Eye chakras promoting an enhanced awareness about life and existence. Clear articulation, pure communication, and an increase in attention and focus are qualities natural Blue Topaz carries. It can assist one in making decisions and discriminations as to what is and is not important in life. Blue Topaz is a helpful tool to magnify psychic abilities and promote communication within the ethereal realms. Natural Blue Topaz aids in the proper expression of emotions and helps calm and soothe the emotional body. Revealing the highest truths and promoting concise communication make this stone beneficial for people that feel blocked in their Throat or Third Eye chakras. It signifies the "fire of the mind", and stimulates one's understanding and desire for learning. A real eye-opener, Natural Blue Topaz is expressive and ethereal and is a great tool to enhance this social human experience.  
Partner Stones: Lapis Lazuli, Iolite, Blue Scapolite, Quartz, Blue Tourmaline, Sodalite, Labradorite, Blue Sapphire, Moonstone, Opal, Larimar, Blue Kyanite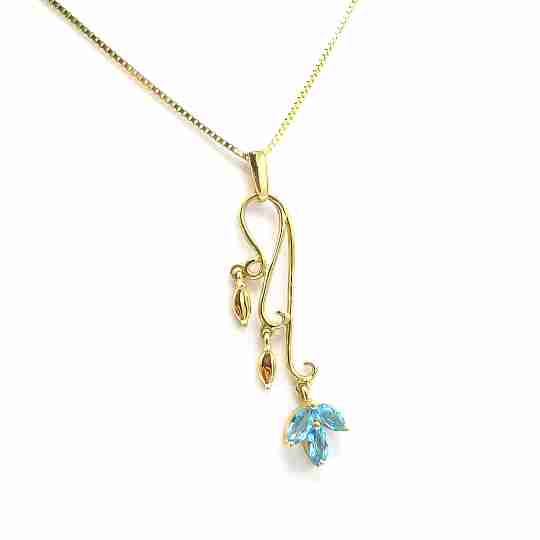 THE NERD STUFF 
Chemical Formula: Al2SiO4(F,OH)2  
Color: Blue
Hardness: 8
Crystal Habit: Orthorhombic
Refractive Index: 1.610-1.638
Specific Gravity: 3.3-3.6
Optic Character: Biaxial (+)
Transparency: Transparent 
Double Refraction: .014
Luster: Vitreous
Fracture: Subconchoidal to Uneven
Cleavage: 1,3 Basal 
Mineral Class: Aluminum Silicate Fluoride Hydroxide - Topaz
RESOURCES
"Topaz", Simmons, Robert, et al. The Book of Stones: Who They Are and What They Teach, North Atlantic Books, 2015.
"The GemstoneTopaz", <https://www.minerals.net/gemstone/topaz_gemstone.aspx>
BLUE TOPAZ FROM THE RUTILE COLLECTION