DETAILS
Celestite, also referred to as celestine, is a strontium sulfate mineral found in the 1790s. It is found within sedimentary environments, rarely in metal ore veins, and is isomorphous with barite (and may partially replace it), although barite is a bit heavier. Celestite is named after the latin term caelestis, meaning "celestial", or "heavenly", alluding to its sky blue color. Celestite is found in well-shaped crystals with the majority of its color displayed in a wide range of blues, however it can also present itself as specimens of white, yellow, light orange to reddish-brown, colorless, and pale green. While pure celestite is colorless, various impurities give this mineral its wide range of colors. It is very soft, rating a 3-3.5 on the Mohs scale, and for this reason it is often only seen in mineral collections and not used as gemstones in jewelry. Celestite is the main source of the element strontium, which is used in various metal alloys in the manufacture of pyrotechnics, flares, and fireworks due to its brilliant red flame when heated. This special characteristic is called thermoluminescence. Celestite also occasionally fluoresces under short wave ultraviolet light. These characteristics make celestite heat and light sensitive. Notable, large blue celestite crystals are found in Madagascar, often in enormous geode form. Italy, Spain, USA (Ohio, Pennsylvania), Poland, Libya, South Africa and Turkmenistan are other important locales where celestite is sourced.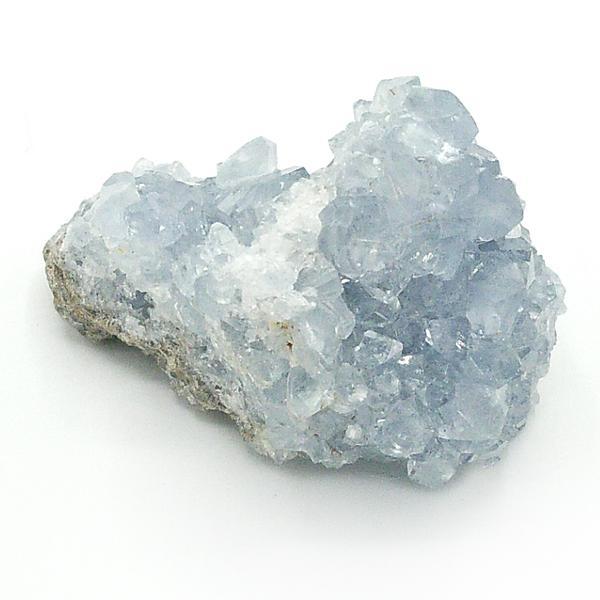 Element: Wind
Chakras: Throat, (5th), Third Eye (6th), Crown (7th)
Keywords: Stone of Angelic Communication, Spiritual Guidance, Bliss, Enhanced Awareness, Pure Expression, Psychic Encounters, Divine Wisdom, Environmental Cleansing
Celestite is a stone of the heavens. It helps one feel a sense of self within their spirit. It reignites alignment of the upper chakras and promotes consciousness. Celestite brings angelic connections and communications to one's self and can offer guidance of the spirit. It connects one with Divine Wisdom and facilitates deeper meditation. It is symbolic of the stars and enhances awareness on all levels, as if we were stars and looking down on Earth, seeing all. Its high vibrations can be healing to those that feel lost in their souls. Celestite can promote psychic encounters, emotional upliftment, and environmental cleansing. It allows access to higher dimensions and Divine Guidance.

Partner Stones: Moldavite, Azeztulite, Quartz, Morganite, Aquamarine, Phenacite, Petalite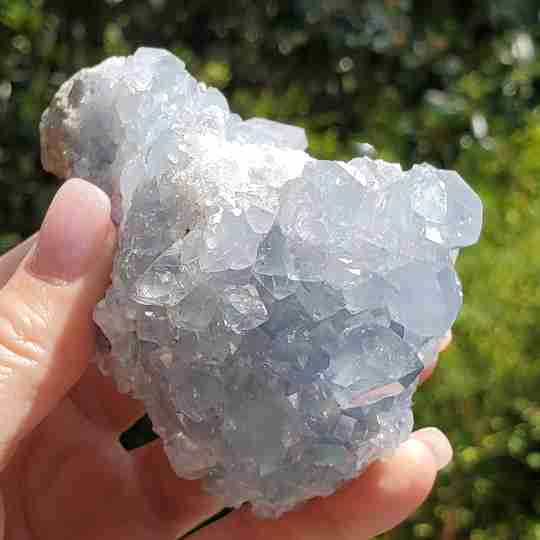 THE NERD STUFF 
Chemical Formula: SrSO4
Color: Blue, white, colorless, orange, light brown, yellow, greenish-blue, gray
Hardness: 3 - 3.5
Crystal Habit: Orthorhombic - Dipyramidal
Refractive Index: 1.619 - 1.635
Specific Gravity: 3.9 - 4.0
Optic Character: Biaxial (+)
Transparency: Transparent to Translucent 
Double Refraction: 0.010-0.012
Luster: Vitreous
Fracture: Brittle - Conchoidal 
Cleavage: Perfect
Mineral Class: Sulfates
RESOURCES
"The Mineral Celestine", <https://www.minerals.net/mineral/celestine.aspx>

"Celestite", Simmons, Robert, et al. The Book of Stones: Who They Are and What They Teach, North Atlantic Books, 2015.
CELESTITE FROM THE RUTILE