Details
Formally a collectors' stone, chrome diopside has gained popularity as a Siberian deposit was discovered in 1988, and then recently a deposit in Pakistan has increased the availability. Its grassy-green color is often confused with a green tourmaline however, it is a much softer material so it is best suited for wear as a pendant, earrings, or other jewelry that is not prone to rough treatment like a ring. This stone has also been marketed as "Tashmarine." Diopside can be many colors however the specification of "chrome" indicated the intense green with spectrum lines at 505nm, 508nm, 635nm, 655nm, and 670nm, with a cutoff in the blue at 450nm. It is a calcium magnesium silicate and often found in twinned crystals.

Metaphysical 
Element: Earth
Chakras: Heart (4th), Root (1st), Earthstar (below feet)
Keywords: Connection to the earth, opening of the heart, healing, balance, subtle perception
Green (chrome) diopside charges the third-eye, heart, and second chakras. It helps balance and heal the body, particularly female reproductive organs, and can be supportive during the menopausal years. This stone is empowering heart energy, balancing one's emotional well-being, and allows us to love ourselves and receive love from others.
It is an ally for those on their spiritual journey where we can learn to integrate our spiritual realm to our earthly dwelling in a balanced and mindful way. The calcium and magnesium gives a relaxing and comforting energy. Diopside allows us to connect with nature (Gaia) and communicate with animals, plants, and minerals which causes us to take more responsibility in our existence on (and possible damage to) the earth.
Partner Stones: rose quartz, phenacite, azeztulite, satyaloka quartz, danburite, gem silica, ajoite, larimar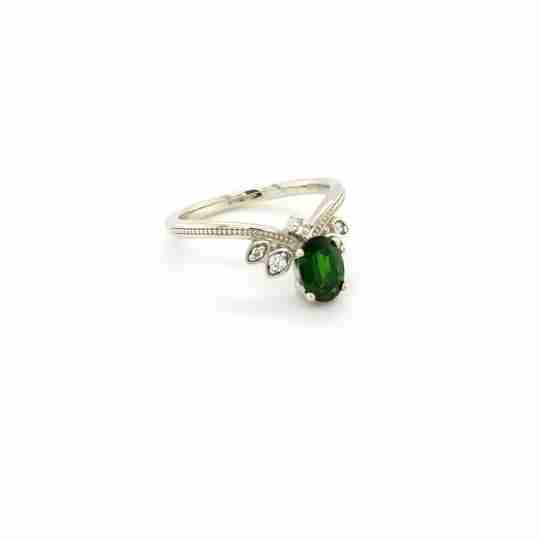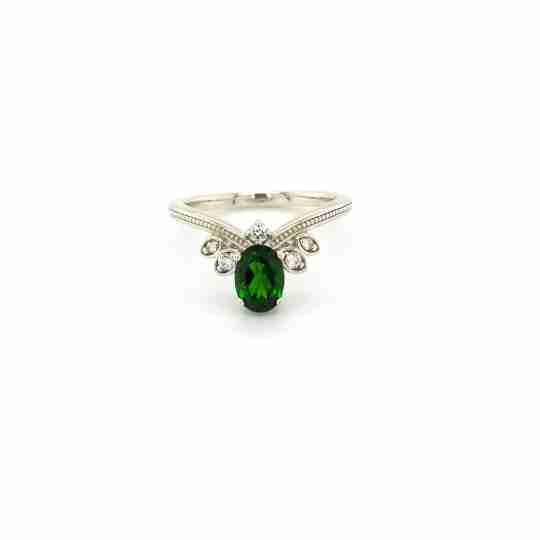 The Nerd Stuff 
Chemical Formula: CaMgSi2O6
Color: Green, Yellow, Brown, Black
Hardness: 5 - 6
Crystal Habit: Monoclinic
Refractive Index: 1.665 - 1.730
Specific Gravity: 3.3 - 3.5
Optic Character: Biaxial positive
Transparency: Transparent. Star diopside is opaque.
Double Refraction: 0.028
Luster: Vitreous
Fracture: Conchoidal to uneven
Cleavage: 1,2 - prismatic. May also exhibit parting in one direction.
Mineral Class: Diopside

Resources
"Diopside: The Gemstone Chrome Diopside Information and Pictures."

Diopside: The Gemstone Chrome Diopside Information and Pictures

, www.minerals.net/gemstone/diopside_gemstone.aspx.
Gem Identification Manual 

. Gemological Institute of America, 2005.

Simmons, Robert, et al.

The Book of Stones: Who They Are and What They Teach

. North Atlantic Books, 2015.
Want some Chrome Diopside from The Rutile Collection?