Details
Characterized by its deep green color and perfect hexagonal crystal habit, Emerald is highly valued around the world. Its mention has been noted passed down through the centuries, with the first Emeralds coming out of Egypt, notably called Cleopatra's Mine for her love of this gem, and Austria. Its deep green hue stems from the addition of either Chromium and/or Vanadium to its Beryl base. Emerald is the deep green variety of Beryl (a minor ore of Beryllium), not to be confused with light green Beryl which is far less desired. To be considered an Emerald, the stone must have a rich saturated green color. Transparent and gemmy Emeralds are highly valued, while Emeralds with many inclusions and flaws are still valued worldwide. Actually, Emeralds are notorious for their flaws and flawless stones are very uncommon. Found in granite pegmatites and metamorphosed mica schists, Emeralds are of both Igneous and Metamorphic rock types. There are several varieties of Emeralds. Columbian Emeralds are the highest-quality, coming from the historic "Emerald Belt". Trapiche Emeralds are a rare form of Emerald that exhibits a radiating asterisk-shaped star pattern with raylike spokes of black carbon impurities and tiny parallel inclusions. Brazilian Emerald, Cat's Eye Emerald, and Zambian Emeralds are other varieties noted for their beauty. Other Emerald varieties are sourced from Russia, Afghanistan, Mozambique, Zimbabwe, South Africa, and North Carolina (US). Emerald is one of the most valuable gemstones. Transparent Emeralds are faceted into gems using the specific "Emerald cut", as they are very sensitive to pressure and banging. Although the stone itself is one of the hardest gem materials, it is brittle and breaks at its many inclusions and cleavage.  

Metaphysical 
Element: Earth
Chakras: Heart (4th)
Keywords: Heart Opener, Growth Crystal, Youth, Rejuvenation, Health, Vitality, Talisman, Amulet, Compassion, Divine Love, Abundance, Radiance of Light, Seeker Energizer Crystal, Life Force, Good Luck, Hope, Magic, Revealer of Truth, Fidelity, Eternal Life
Emeralds have been worshipped for their majestic properties since ancient times. Its mention and use are prevalent across generations and localities, spoken of in many ancient religious texts. Its energy is as undeniable as its beauty. Emerald's deep green hue resonates with the 4th Heart Chakra and can assist in any relationship hurdles, whether it be internal or external, opening the heart and stimulating unconditional love and compassion as well as clearing and strengthening the connection to Divine Love. Emeralds can promote abundance beyond mere wealth. As a Growth Crystal it is analogous with Earth's Life Force energy of birth, creation, and nature's constant renewal symbolizing youth and rejuvenation. As a Seeker Energizer Crystal, it contains the crystal energy structure that aligns the natural energy of the crystal to the power of the human mind, realizing fresh starts, new directions, new horizons, and new capabilities. Energizer Crystals channel and absorb energy through their crystal lattice structure of silicate tetrahedronal rings and are powerful conduits of amplifying the Life Force energy, allowing guidance and direction and negating tiredness and discouragement. Emeralds have been noted for their magical element by many philosophers and writers; Aristotle claimed Emeralds prevented epilepsy and cured diseases of the eyes; Vedic writings claim the stone to be the "gem of good luck"; Egyptians considered it a symbol of eternal life, connecting cosmic and Earthly realms (the phrase "As Above So Below" carved by Hermes Trismegistos on a pure Emerald tablet); it was reputed as a stone of fidelity and universal sight during the Middle Ages; the Greeks and Romans considered Emeralds to be controlled by the planet Venus, ruler of love. Emeralds have a special place in the metaphysical realm, their unique energy is as revered today as it was thousands of years ago; truly a timeless gem. 
Partner Stones: Quartz, Calcite, Orthoclase, Muscovite, Albite, Pyrite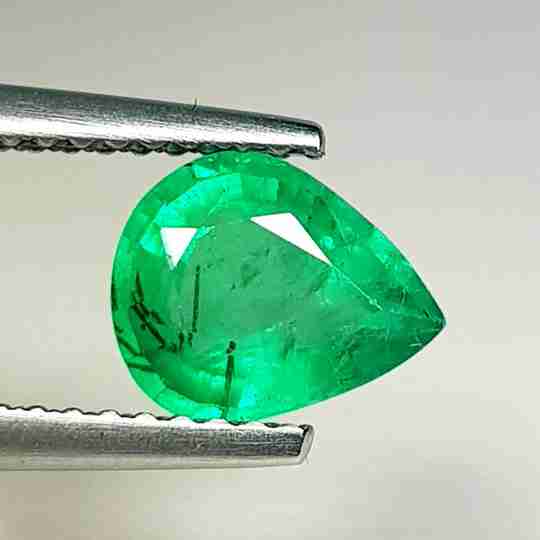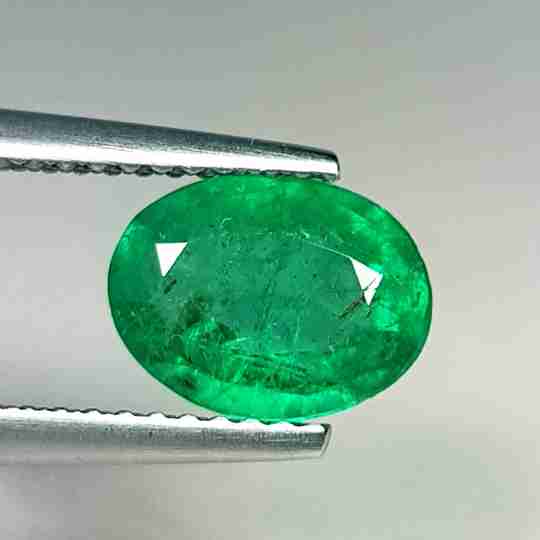 The Nerd Stuff 
Chemical Formula: Be3Al2Si6O18
Color: Deep Green to Emerald Green
Hardness: 7.5-8
Crystal Habit: Hexagonal
Refractive Index: 1.57-1.58
Specific Gravity: 2.6-2.8
Optic Character: Uniaxial (-)
Transparency: Transparent to Opaque
Double Refraction: 0.006
Luster: Vitreous
Fracture: Uneven to Conchoidal
Cleavage: 3,1 - Basal
Mineral Class: Beryl

Resources
"The Mineral Emerald", https://www.minerals.net/mineral/emerald.aspx
"The Gemstone Emerald",  https://www.minerals.net/gemstone/emerald_gemstone.aspx
"Emerald: The World's Most Popular Green Gem", Hobart, M. King, https://geology.com/gemstones/emerald/
"Emerald Meaning and Uses",  https://www.crystalvaults.com/crystal-encyclopedia/emerald
Want some Emeralds from The Rutile Collection?
Main Stone: Emerald

Weight:

1.32cts

Dimensions

:

8.8 x 6.8 x 3.7mm

Treatment:

  Colorless Oil  - a common treatment 

Source:

Zambia


Accent Stones: Diamond
Weight:

0.125ct 

Number of stones:

18

Metaphysical:

Intensity, radiance, sovereignty 


Metal: 14k Yellow Gold
Size:

7 - Easily sizable.

Sizing coming soon! 


Item Totals: 
Total Weight:

2.34 dwt

Ring Total Dimensions:

 6.19 x 2.25 mm


A matching band is available for $525 upon request.
Reference: 123246:6001:P