DETAILS
Fluorite, also called fluorspar, is a mineral composed of calcium and fluorine (CaF2). It derives its name from the discovery by George Gabriel Stokes in 1852, where he found the specimens of fluorite produced a glow when illuminated by light and he thus coined the term "fluorescence". This term is widely used within the scientific community today. Fluorite's fluorescence is one of its identifying characteristics and will glow a blue-violet color under short-wave ultraviolet and long-wave ultraviolet light. This phenomenon is thought to be caused when trace amounts of yttrium, europium, samarium, or other elements substitute for calcium within its mineral structure. Its perfect cleavage in four directions is another identifying characteristic of fluorite and is the only common mineral that displays this. It is typically displayed as purple, green, and yellow in its isometric structure but can also be found in golden, black, blue, red, and colorless varieties, each color holding its own metaphysical properties. Fluorite is found within hydrothermal veins often associated with metallic ores and in fractures of limestone and often found associated with quartz, calcite, and barite. Fluorite is used in a wide variety of chemical, optical, metallurgical, and ceramic processes. Fluorite (in its different grades) is used to make ceramic glazes, hydrofluoric acid, non-stick cooking surfaces (Teflon), optical lenses, and serves as a flux to remove impurities from metals in the iron and steel industry. Specimens with exceptional diaphaneity and color go on to being cut into gems and beautiful specimens are held high in regard in mineral collections.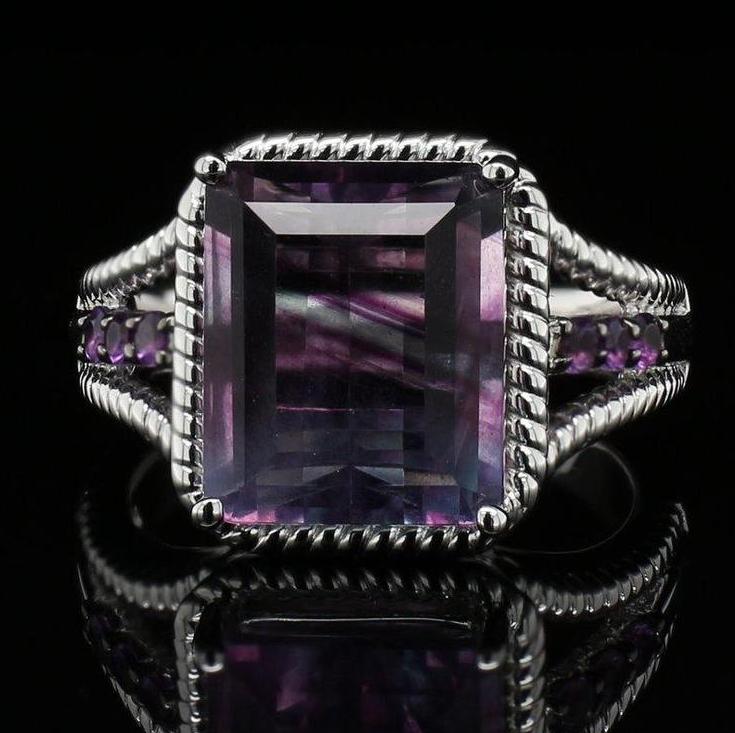 Element: Wind
Chakras: Heart (4th), Throat, (5th), and Third Eye (6th)
Keywords: Stone of Mental Clarity, Aura Cleansing, Dispels Negative Energy, Focus, Mental Alignment, Improved Decision Making, Protection, Trauma Healing
Fluorite stimulates the heart, throat, and third eye chakras. It helps align us with our internal voice and slow our thought processes so that they can become attainable and understandable. Fluorite is great for anyone that feels lost in their thoughts and unable to commit to projects because of an unstructured mental state. Fluorite enhances mental abilities and brings order to chaos. It is a special stone for dispelling negative energy and harmonizing scattered thoughts. It brings chaos to form, resolving incoherent thought patterns and confusion, offering structured guidance and clarity. It attunes us with our deepest desires while protecting our emotional bodies and cleansing our auric field. Fluorite balances our brain chemistry, integrates our two brain hemispheres, and allows for proper interpretation of our existence. For this reason, it is a great stone for anyone dealing with any sort of trauma. It promotes emotional and mental protection while allowing us to see things from a different, perhaps cleaner, perspective.
Partner Stones: Quartz, Tourmaline, Lepidolite, Emerald, Labradorite, Calcite, Dioptase, Obsidian
THE NERD STUFF 
Chemical Formula: CaF2
Color: Typically purple, green, and yellow. Also colorless, blue, red, and black
Hardness: 4
Crystal Habit: Isometric
Refractive Index: 1.434
Specific Gravity: 3.2
Optic Character: N/A
Transparency: Transparent to Translucent
Double Refraction: None
Luster: Vitreous
Fracture: Subconchoidal to Uneven
Cleavage: Perfect
Mineral Class: Halides
RESOURCES
"Fluorite (also known as Fluorspar)", Hobart M. King (PhD, RPG), <https://geology.com/minerals/fluorite.shtml>
"Fluorite", Simmons, Robert, et al. The Book of Stones: Who They Are and What They Teach, North Atlantic Books, 2015.