DETAILS
Garnet is the term used to describe a group of several closely related yet highly varied rock-bearing minerals most often seen as varieties of aluminum silicates. The physical properties and chemical formulas vary amongst members of this group. The six types of Garnet are  Almandine, Spessartine, Grossular, Andradite, Pyrope (Rhodolite is a type of pryope), and Uvarovite. Garnets can be found in all sedimentary, metamorphic, and igneous environments. Often found concentrated in sediments formed through the weathering and erosion of garnet-bearing rocks, many Garnets tell a story of transformation. Elements change as rock undergoes the process of diagenesis, the burial of sediments, and the resulting chemical and physical reactions that occur on their inward descent into Earth where greater temperature and pressure environments exist. A metamorphosis thus occurs as a rock descends towards Earth where it experiences greater environmental demands and chemical bonds break to create the recrystallization of minerals to form a more stable structure under their new environmental constraints. Garnets start their journey as tiny grains and enlarge slowly over time as this metamorphism progresses. Garnets displace, replace, and include the surrounding rock materials as they transcend. The metamorphosis that occurs as rock descends deeper into Earth's crust and mantle is represented well by Garnets. The wide chemical variation of the Garnet types determines their many physical properties. Most garnet forms where shale is being acted upon by regional metamorphism at convergent plate boundaries. The calcium Garnets form from the alteration of limestone into marble by contact metamorphism along the edges of igneous intrusions. The calcium Garnets are typically green in color and they are Andradite, Grossular, and Uvarovite. They have a lower hardness and lower specific gravity than other Garnets. The red Garnets with iron, manganese, and/or magnesium in their chemical composition are harder, have higher specific gravity, and often occur as accessory minerals in igneous rocks such as granite. They can be found amongst igneous environments and can often be a clue to the presence of diamonds. Garnets have been revered as a beautiful and valuable gemstone for thousands of years. They have been found in the jewelry of Egyptian burials and were extremely popular in Ancient Rome. Gem quality Garnets can occur in virtually any color, with blue being the rarest and red the most common. Pyrope garnet is virtually non-existent on its own and is usually 83% pyrope, 15% almandine, and about 2% other garnet varieties. A non-gem quality specimen was found in the Dora Maira massif in the western Alps that contained 98% pyrope which is the purest specimen ever discovered. Red Almandine Garnets are the most abundant and most common for use in jewelry. A valuable green Grossular Garnet, Tsavorite, and a golden-green Andradite called Demantoid are growing in popularity and are highly regarded in the gem trade. Garnet's hardness makes it durable for use in jewelry as well as important for industrial use. In the past 150 years, Garnets have served some industrial purposes as abrasives, filters, and diamond mineral indicators. Garnet can be found worldwide but notable deposits and beautiful specimens have been discovered in Africa, India, Russia, the USA, Brazil, Iran, Pakistan, and Myanmar.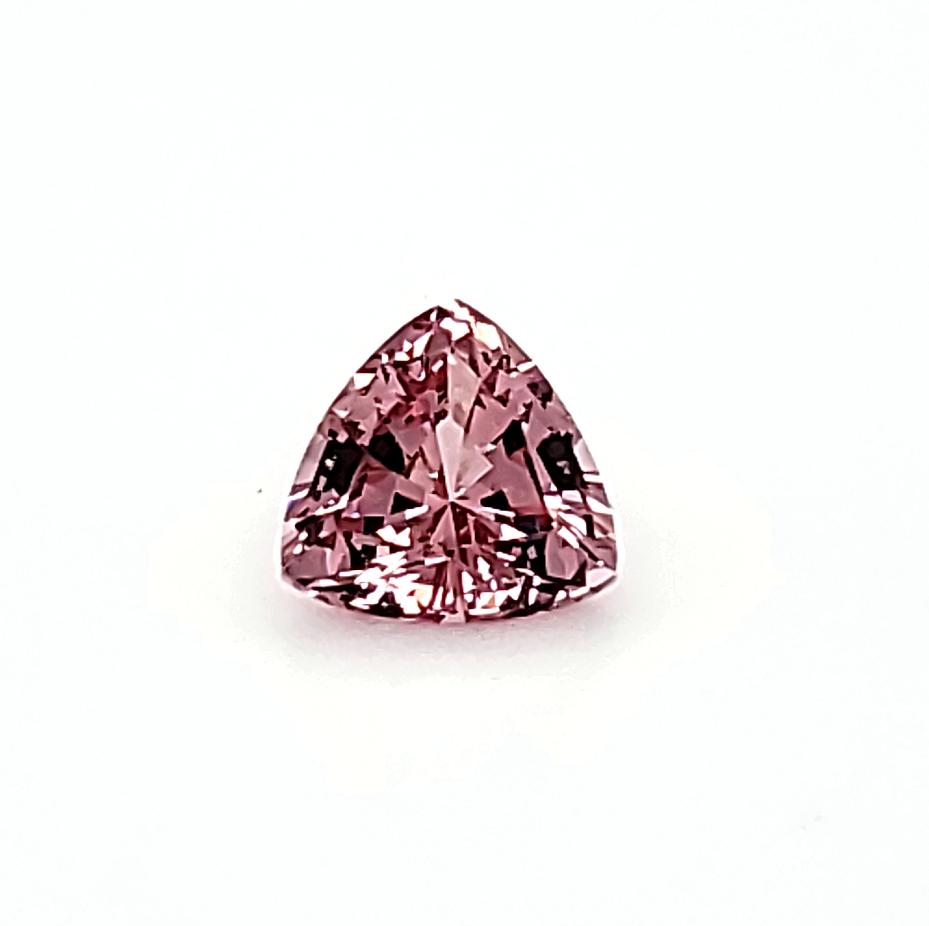 METAPHYSICAL 
The 6 varieties of Garnet have varying colors, formulas, and spiritual properties and will be discussed individually below. Garnets, in general, symbolize powerful transformation and realistic manifestation. Garnets can be catalysts of great inner change, propelling one to turn their dreams into a reality. It is very grounding to the aura and stimulating to the Chi. Garnet resonates with the pure Earth energy and carries with it the healing power of nature. Garnets can be a great tool for anyone that has dealt with trauma as their heart-healing energy can help counter feelings of insufficiency, inadequacy, or lack of self-worth. Garnets can help one remember and heal from past wounds. Garnets often have an association with Earthly and spiritual abundance, wealth, and health. Strength, manifestation, security, protection, sexual energy, and creativity are themes common to the presence of Garnet. Garnet's raw power has been honored for thousands of years. It is strong, grounding, emotionally supportive, and igniting to the soul. Garnet helps one tap into the powers of Divine Source that are present in all of us. A great manifestation stone that can bring a sense of joy to our existence. Garnets of different types can work synergistically together.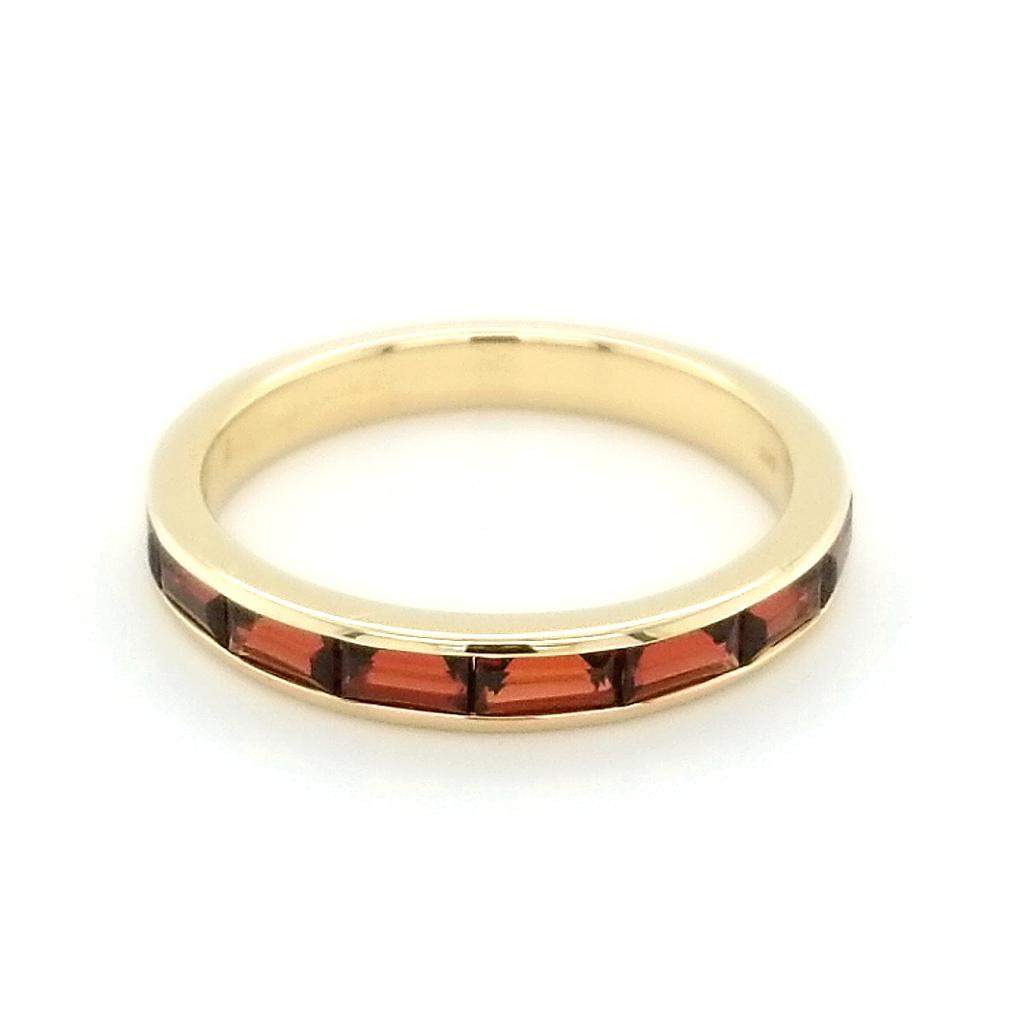 ALMANDINE GARNET
Element: Earth
Chakras: Root (1st)
Keywords: Strength, Protection, Security, Endurance, Grounding, Manifestation
Almandine Garnet activates the Base Chakra, arousing the powerful energies of Kundalini, invigorating a sense of grounded protection and physical endurance.


An iron aluminum silicate is derived from its town of discovery, Almandine, in Asia Minor. Its color varies from orange-red to purplish red. This is the garnet variety that most people think of when they think of a garnet. 
its roots in ancient civilizations and can assist one in remembering past-life occurrences through its subtle stimulation of cellular memory. Almandine Garnet can teach us to trust in Divine Source, enhance our vitality, and helps us feel joy in the physical world. Almandine Garnet can aid one in finding a calm connection in our everyday existence. Almandine Garnet stimulates the Base Chakra and promotes a sense of security in our self and our lives. Almandine Garnet helps the body connect with the Earth and can be beneficial for anyone needing extra grounding. It is supportive to our sense of safety and helps us live in the present through its connection with the physical world. Almandine Garnet allows the manifestation of one's heartfelt desires to occur in the physical realm. It is a calming stone, that is invigorating to our life force energy and reinforcing to our physical health and mental wellbeing.  
Partner Stones: Black Tourmaline, Carnelian, Rose Quartz, Ruby, Black Andradite Garnet
GROSSULAR GARNET 


Element: Earth
Chakras: Solar Plexus (3rd), Heart (4th)
Keywords: Joyful Abundance, Prosperity, Health, Grounding, Optimism
A calcium aluminum silicate that includes Tsavorite and African Green Garnet. The name derived from the Latin word for "gooseberries" because of the shared color similarity of the berries and certain light-green Grossular Garnets. 

Grossular Garnets represent true wealth in all aspects of the word. Financial, emotional, physical, and creative abundance can come with the use of this stone. Grossular Garnets cleanse the heart chakra and can help one find alignment with the inner desires of the heart. A powerful manifestation stone that carries contagious energy of optimism, prosperity, and joy. It is grounding yet uplifting to the mood. Grossular Garnets can help stimulate confidence, motivation, cellular regeneration, and a joyful outlook on life. 
Partner Stones: Aventurine, Green Jade, Emerald, and Malachite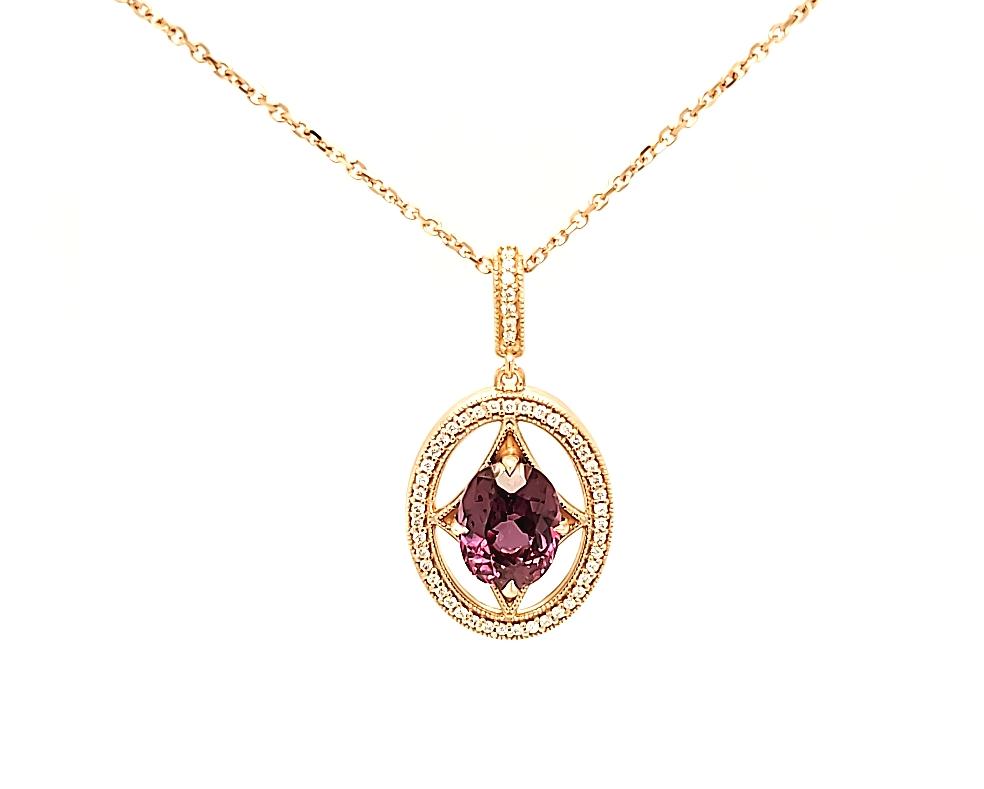 PYROPE GARNET 

Element: Fire
Chakras: Base (1st) and Crown (7th)
Keywords: Unite creative forces, warmth, and gentleness, increases circulation, lightens mood overall, boosts the immune system, composure, courage, endurance, and dispels awkwardness. 
Although not commonly heard of, pyrope garnet has a great history which includes being effective against vampires and pyrope bullets were used in parts of Asia. Bohemia was known for its pyrope garnets the size of eggs and their fantastic pyrope jewelry created between the 18th and 19th centuries. Erasmus, the Dutch scholar, called pyrope garnet "Living Fire" with it's bright red, orange, and indigo flames. True pyrope garnet is rarely found in nature as a pure mineral variety and is commonly found as a mixture of other garnet varieties. Other varieties of pyrope include rhodolite (discussed next), Queensland garnet, Umbalite, Color Change Garnet, and Purple Garnet. 
Pyrope is attributed to Mars, which encourages power and courage while increasing productivity and performance without hampering quality. It's a stone of uniting your creative forces and promotes an excellent quality of life. Pyrope gives us all-around support of our physical, emotional, and spiritual bodies. This stone helps with circulation and blood issues, while also supporting the digestive system and your body's immunity. Our emotional body gets relief from anxiety and gives us composure, courage, and endurance while lightening our mood overall. It helps open our hearts to love from the Divine and others. It is also a protection talisman on our journey. Pyrope's fiery nature also ignites our will to live when life hits an all-time low. Lighter pink pyropes can stimulate the heart chakra.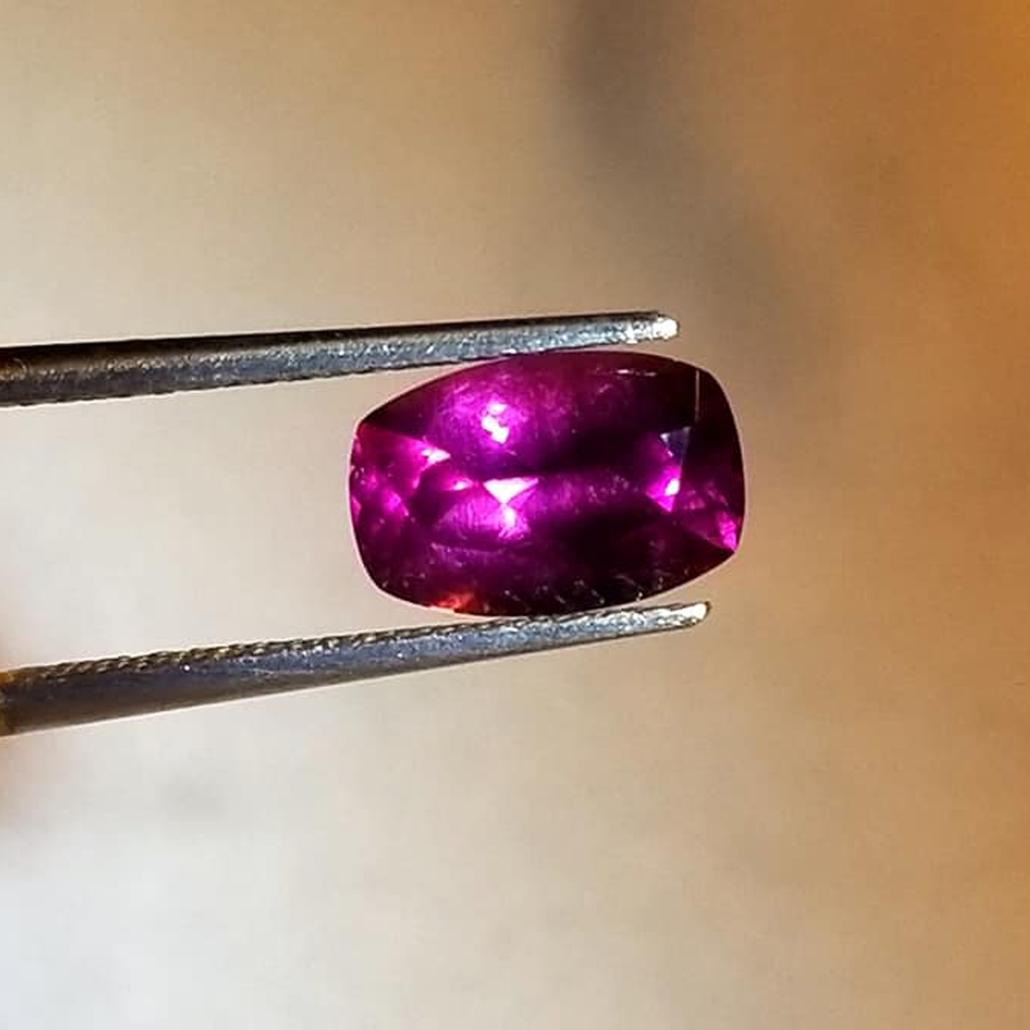 RHODOLITE GARNET

Element: Earth
Chakras: Root (1st), Heart (4th), Crown (7th)
Keywords: Emotional Lightening, Spiritual Joy, Compassion, Divine Love, Self Worth, Inner Alignment
This variety of Pyrope Garnet is a magnesium aluminum silicate. Its name is derived from two Greek words meaning "rose stone". It is found in a varying color of rose red to pale violet. 
Rhodolite Garnet combines the energies of the lower and upper chakras and creates inner chakra alignment emanating from heart-healing rays of compassion and connection with the Divine Source. Rhodolite Garnet stimulates one's own sense of self-worth, stimulating self-love and self-respect, increasing confidence, uplifting mood, and opens one up to receiving loving Universal energies. Rhodolite Garnet heals feelings of inadequacy and sends a vibration of comfort, support, and compassion to all those around. Rhodolite Garnet offers emotional healing by lightening emotional patterns that can take their toll on the human spirit and offers spiritual guidance in the form of grounded intuition. A really special stone because of its total chakra alignment. It can help bring about manifestation and abundance in physical, emotional, and mental realms. Rhodolite Garnet can help remind one of their true life's purpose and tap back into Divine Creation while offering spiritual support. Rhodolite Garnet can remind us of our gifts and heals old wounds that were associated with guilt and shame and can be beneficial for those healing from trauma. 
Partner Stones: Clear Quartz, Carnelian, Phenacite, Emerald, Rose Quartz, Tsavorite Garnet
SPESSARTINE GARNET
Element: Earth
Chakras: Root (1st), Sacral (2nd), Solar Plexus (3rd)
Keywords: Creativity, Health, Cleansing to the Aura, Manifestation, Attraction, Sexuality
A manganese aluminum silicate and its name derives from its discovery location in Spessart, Germany. Its characteristic color is yellowish-orange. 

Spessartine Garnet encourages our expression of Divine Source through the magnification of our lower chakras. Spessartine Garnet stimulates all aspects of creativity and can increase fertility, creative inspiration, physical passion, and intuition. It can encourage optimism and counter fear. It promotes putting action behind the dreams and can help anyone who feels afraid to take risks or leaps of faith. It can rekindle lost passion and heal sexual wounds. Spessartine Garnet increases the speed at which our intentions become manifestations through reconnecting us with Divine Source. It is a powerful stone of attraction and can help clear one's auric field of disharmony allowing one to be open to receiving like energies that are harmonious with our life purpose. 
Partner Stones: Russian Phenacite, Zincite, Orange Calcite, Carnelian, Heliodor, Tsavorite, Rose Quartz, Rhodolite Garnet
BLACK ANDRADITE GARNET
Element: Earth
Chakras: Earthstar (below the feet), Root (1st)
Keywords: Grounding, Protection, Knowledge, Energy Purifier, Prosperity, Meditation, Self-Empowerment, 
A calcium iron silicate mineral is named after a Portuguese mineralogist. Also known as Melanite whose name derives from the Greek word meaning "black". A cubic crystal system and black glossy color are typical of this stone.  
Black Andradite Garnet allows one to attune to the elemental forces here on Earth and ground us to a calm, meditative state bringing us closer to Divine Wisdom and psychic purity. An energetic purifier as well as a psychic protector, Black Andradite Garnet is essential for tapping into one's unleashed powers. Black Andradite Garnet allows the cleansing of our Earthstar Chakra and grounds us in a spiritual manner that promotes purity of thought and Earthly connection. Its subtle vibrations of the lower chakras promote a sense of protection and security as well as self-empowerment as we can feel firmly rooted in our place here on Earth. Tapping into Earth's energies is the theme of Black Andradite Garnet. Bringing these energies into our existence, becoming one with nature, and living within Divine Creation will bring about knowledge and intuition that can come from this stone. We will feel firm in who we are, and what we are here for. A spiritual, grounded stone that promotes transformation and manifestation. Black Andradite Garnet stimulates life force energy allowing us to feel strong and whole.  
Partner Stones: Zincite, Tsavorite Garnet, African Green Garnet, Spessartine Garnet, Carnelian, Black Tourmaline, Black Obsidian
UVAROVITE GARNET
Element: Earth
Chakras: Solar Plexus (3rd), Heart (4th)
Keywords: Love, Confidence, Counters Inadequacy, Abundance, Manifestation, Gratitude


A calcium chromium silicate named after a Russian statesman and sometimes confused with Emerald. 
Uvarovite Garnet heals feelings of insufficiency whether it be personal, financial, physical, or emotional. Its loving vibrations of the Pure Green Ray heal the heart allowing one to see that everything we need, we already have. It can be transformative to anyone always seeking more and never feeling satisfied. Uvarovite Garnet reminds us of a joyful acceptance of Universal offerings and that the Universe always provides. A stone of gratitude, love, and confidence, Uvarovite Garnet clears the channels of receiving. It opens one up to Universal Flow and Abundance. It can assist one in moving from a state of doing to being. It heals emotional wounds caused by feelings of scarcity. It counters fear, inadequacy, and feelings of lack. Uvarovite Garnets stimulates the Solar Plexus and Heart Chakras reminding us of our worth and the healing power of love. 
Partner Stones: Moldavite, Tsavorite Garnet, African Green Garnet, Rose Quartz, Ruby, Phenacite, Emerald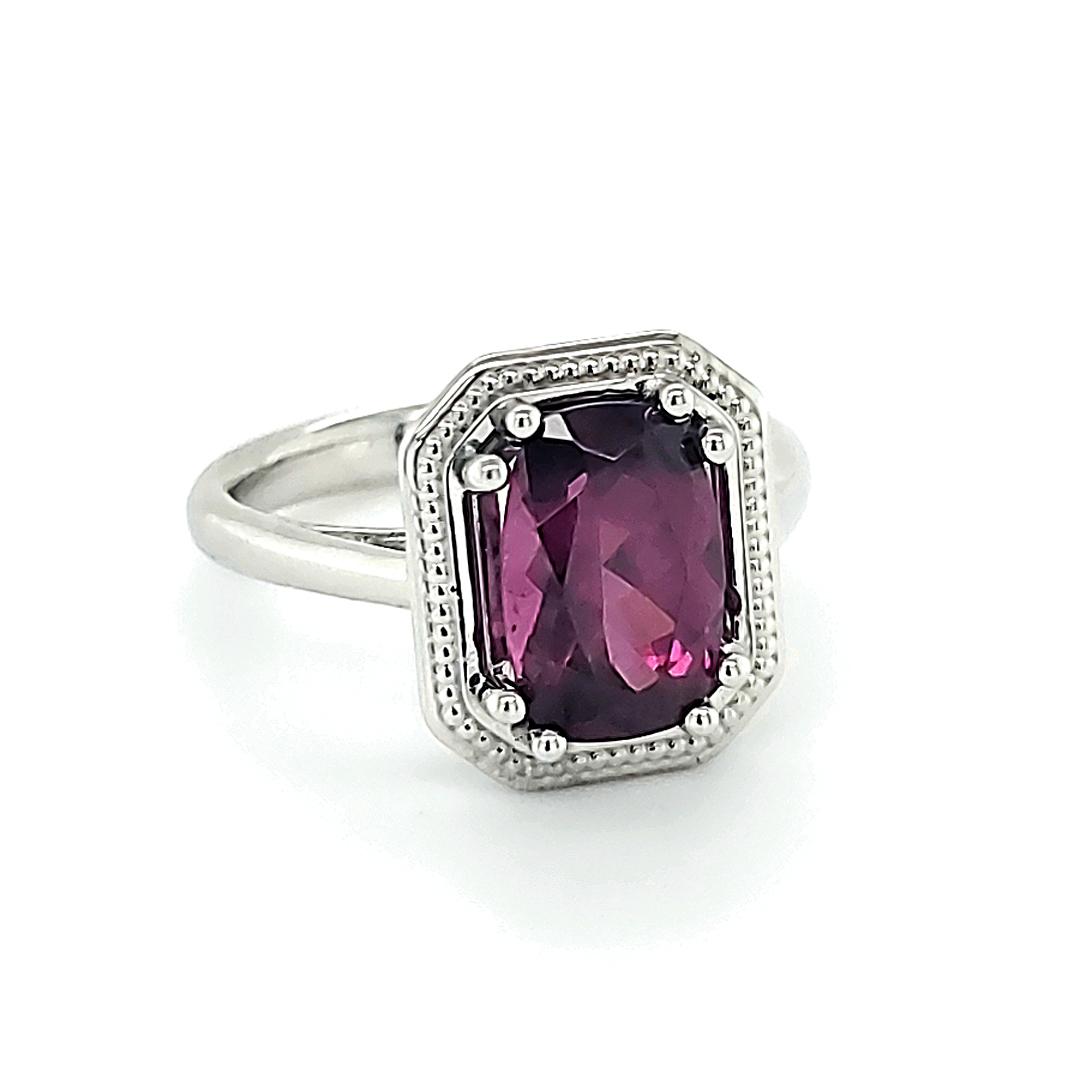 THE NERD STUFF 


Chemical Formula: X3Y2(SiO4)3  [Several Variations: X = Ca, Mg, Fe2+ or Mn2+
        and Y= Al, Fe3+, Mn3+, V3+ or Cr3+]
Color: Red, Green, Yellow, Orange, Brown, Pink, Purple, Gray, Black
Hardness: 6.5-8.5
Crystal Habit: Isometric
Refractive Index: 1.780-1.889
Specific Gravity: 3.5-4.3
Optic Character: NA
Transparency: Transparent to Translucent
Double Refraction: None
Luster: Vitreous to Resinous 
Fracture: Conchoidal to Uneven
Cleavage: None
Mineral Class: Silicates, Garnet
RESOURCES
"Garnet", Simmons, Robert, et al. The Book of Stones: Who They Are and What They Teach, North Atlantic Books, 2015.
"Garnet", Hobart M. King, https://geology.com/minerals/garnet.shtml
"The Gemstone Garnet"  https://www.minerals.net/gemstone/garnet_gemstone.aspx
"Pyrope Garnet Meanings and Uses" https://www.crystalvaults.com/crystal-encyclopedia/pyrope
GARNETS FROM THE RUTILE COLLECTION