DETAILS
Larimar is the rare blue gemstone variety of the sodium calcium silicate mineral pectolite. Although pectolite is not a rare mineral, the stunning sea-blue larimar is unique in the sense that it is found only in a limited deposit in Hispanola, an island in the Caribbean Sea also referred to as the Dominican Republic. Larimar is formed in cavities within basaltic lava. The exquisite ocean-esque coloring of larimar is caused by copper inclusions. Its blue color is seen within interconnecting white lines, rough circles, and radiating crystal patterns. Its blue color can vary in intensity with deeper blue and less white being more desirable for investors. Larimar received its name from a visiting member of the US Peace Corps and a Dominican native. Together these people, Normal Rilling and Miguel Mendez, combined Mendez's daughter's name "Larrisa" and "mar" meaning "sea" in Spanish to name Larimar in 1974. Legend has it that larimar was actually discovered much earlier in 1916 but was "forgotten", perhaps to deter over-mining of this rare gem unique to the Caribbean. Larimar can be easily scratched and ranks a 5.0 on the Mohs scale of hardness and its color may fade when exposed to prolonged sunlight, so care should be taken when wearing larimar. The only mine in the world that produces larimar is  the Filipinas Mine in Los Checheses, Dominican Republic. Its rarity makes this stone a necessity for any avid rock collector, and its beauty catches the eyes of many.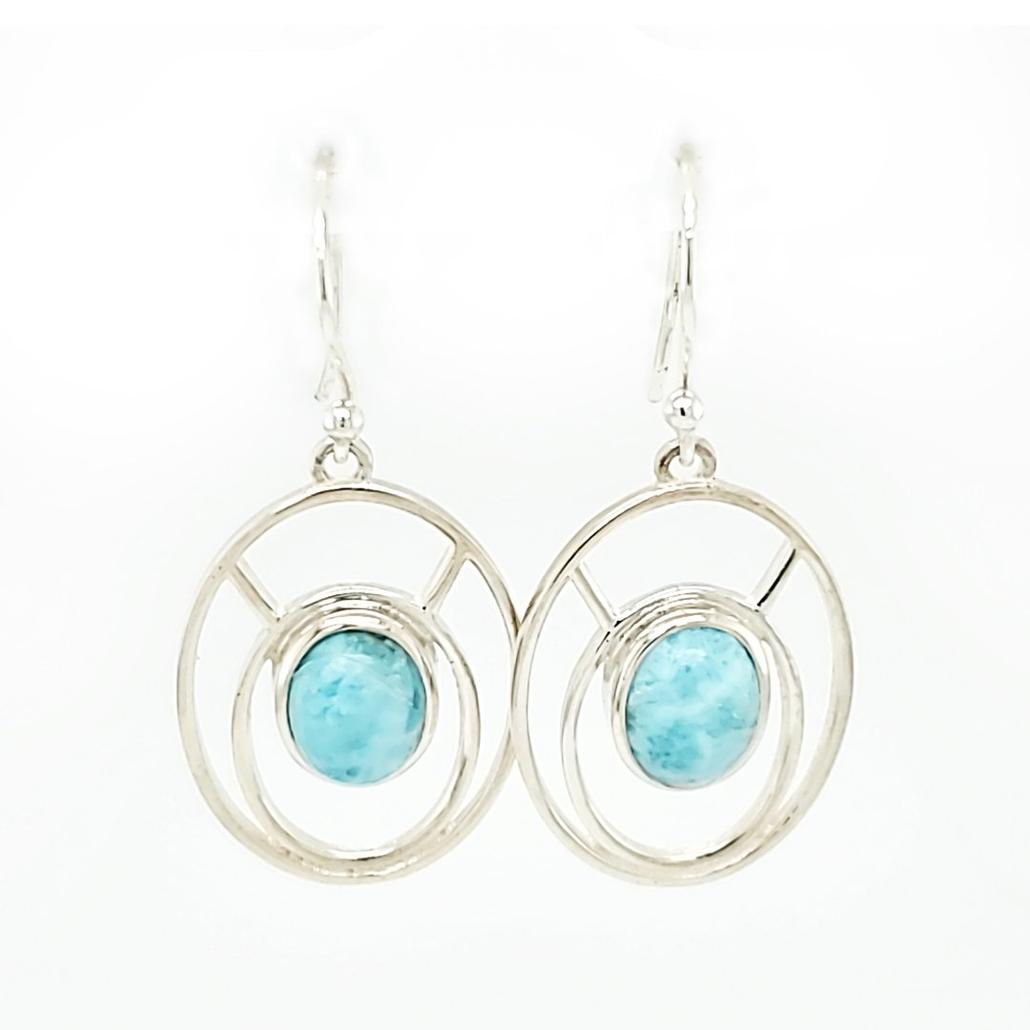 Element: Water/Fire
Chakras: Throat (5th)
Keywords: Stone of Relaxation, Divine Feminine, Voice of Wisdom, Emotional Expression, Balance, Self-Nurturance, Clear Communication, Calming   
Larimar embodies both the ocean and the volcanoes that come into contact with the saltwater. For this reason, larimar is extremely beneficial at providing balance to the seemingly juxtaposing fire and water energies. Larimar can be great for calming anyone that feels a little over-excited or overly passionate. It calms and relaxes like the crystal blue Caribbean waters do. It can bring the voice of deep inner wisdom to an honest, clear pathway. It promotes communication and helps the wearer feel more attuned to their own emotions and what it is they need to communicate. It can be beneficial in relationships, in travel, and anyone needing help expressing their deep desires and needs. Larimar stimulates the 5th Throat Chakra with Goddess and Divine Feminine energies. Larimar soothes the emotional and physical body and can be beneficial for anyone feeling inflamed, hot, or quick to spark. Larimar clears deep emotional patterns via its association with the Divine Feminine and will bring to light hidden emotions that have kept you from actualizing your fullest potential. Larimar promotes receptivity, intuition, wisdom, and balance. Its rare origin makes this a must have stone in any collection, and its metaphysical properties have proven to be emotionally and physically beneficial to people from all walks of life. It brings clear guidance in a relaxed manner, almost as if the sea muses are singing out to you in serene lullabies of the Caribbean ocean. 
Partner Stones: Aquamarine, Ajoite, Turquoise, Andean Blue Opal, Aqua Lemuria, Chrysocolla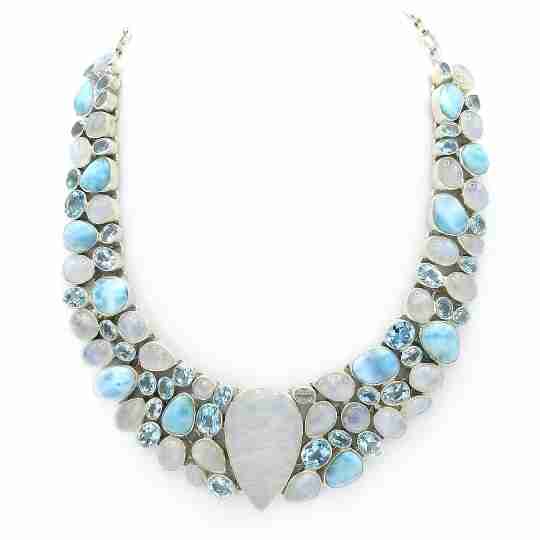 THE NERD STUFF 
Chemical Formula: NaCa2Si3O8(OH)
Color: Blue, Bluish-White, Gray, Green 
Hardness: 5
Crystal Habit: Triclinic
Refractive Index: 1.59-1.65
Specific Gravity: 2.7-2.9
Optic Character: Biaxial (+)
Transparency: Transparent to Opaque
Double Refraction: 0.038
Luster: Silky
Fracture: Uneven
Cleavage: 2,2
Mineral Class: Pectolite
RESOURCES
"The Gemstone Larimar", Minerals.net  Larimar pectolite: The blue gemstone Larimar information and pictures (minerals.net)
"Larimar", Simmons, Robert, et al.

The Book of Stones

: Who They Are and What They Teach. North Atlantic Books, 2015.