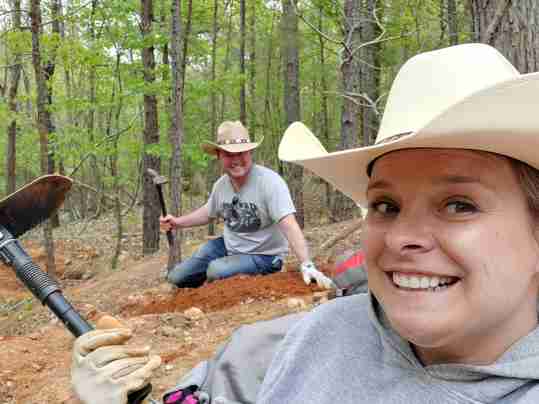 Rebecca is a Graduate Gemologist and a big digital nerd. Jamie makes sure she doesn't refinance the house to buy more gemstones and loves to help people smile. They are partners in Life, Love, & Sparkle! 

The Rutile Ltd is an inclusive brand that focuses on the science and metaphysical aspects of amazing gems and minerals. A lot of metaphysical jewelry looks homemade, which is fantastic, but we offer a more refined and high-end take on metaphysical jewelry. 
We visit mines all over the world to procure awesome gemstones directly from the source and take you with us! You'll find videos with Rebecca talking about the geology of the awesome places we visit and gemstones on our Videos page, Instagram, Facebook, YouTube, and TikTok channels.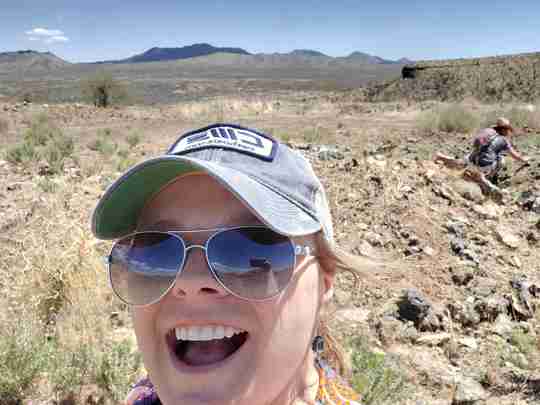 Rebecca A. Ison, GIA GG
Rebecca started in the jewelry industry in 2000 as a retail associate for two 
Hannoush Jewelers locations in Cincinnati, Ohio. She fell in love with quality jewelry: fine gemstones and diamonds set in durable yet stylish settings. She then moved to St. John in the USVIs because what else is a 19-year-old to do? She then moved to Las Vegas where she worked for MJ Christensen's Diamond Center selling very high-end jewelry right off the strip at their Sahara location. Christensen's was Rebecca's first experience with an American Gem Society member store, where they are held to the highest standards of business practices and ethics to ensure that customers are buying from jewelers who have the knowledge and skill to help customers make the most informed buying decision. She then moved back to Cincinnati, Ohio to be with her father while he was ill and took a position at Wm Effler Jewelers, another AGS Member store. These two stores were instrumental in Rebecca's education where she learned how to custom design jewelry, minor jewelry and watch repair, and appraisal skills. Rebecca signed up for the Gemological Institute of America's Graduate Gemology distance education program. She also became a Reiki Master at Mantra Wellness Center with Sensei Bruce Davis. She began exploring the use of her beloved gemstones to ground and heal her heart after the loss of her father. At this time, Rebecca backpacked around the world to study the gem trade, she studied jadeite in Hong Kong, corundum (sapphires and rubies) in Thailand, and diamonds in Antwerp. On a whim, she applied to become a Diamond Grader at the GIA World Headquarters in Carlsbad, California. She got a call for an interview, packed up her house in a Uhaul trailer, and drove straight to Carlsbad with all of her belongings and her beloved dog, Jerry the Grateful Dog. She started a few days later and became one of GIA's Staff Gemologists. She also spearheaded their Green Team Steering committee which was instrumental in making ecologically minded policy changes in all of their worldwide locations. Rebecca moved back to Cincinnati after three years to be with her mother and launched The Rutile Ltd as a mobile appraisal and gemology laboratory. She was honored as a Bad Girl Ventures (now  Aviatra Accelerators) finalist, which is a non-profit that helps women-owned businesses develop their brands, their networks, and their business structure to succeed. Rebecca ended up putting down the loupe and dove into the world of digital marketing, SEO, SEM, website development, and travel. Recently left her position as the Senior Market Manager for TripShock.com's Florida market to concentrate on The Rutile full time. Rebecca has her BS in Psychology with a Business concentration from Penn State. Now that 10 years have passed since founding her company, Rebecca is excited to relaunch The Rutile Ltd on the Emerald Coast with a new spirit and vision with her wonderful partner, Jamie, by her side!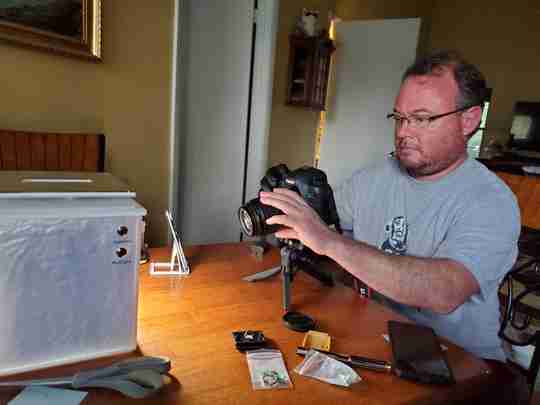 Jamie McIntosh
Jamie hasn't completed his bio yet so I'm going to put this as a placeholder. Jamie grew up in Columbia, South Carolina. He grew up on his family's used car lot and is quite the mechanic! He is an Eagle Scout and attended the University of South Carolina (Go Cocks!) with a BA in Marketing, specializing in Retail Business. Jamie has been a banker for most of his adult life, managing Suntrust Bank and Hancock Whitney Bank locations throughout the Florida Panhandle and brought First Partners Bank to Florida. He has been a Mortgage lender for as long as he and Rebecca have been together, and he loves making houses into homes! He's great at what he does and has an amazing support team at Bank of England Mortgage that keeps him sane. He was the #1 producer for Bank of England's Southeast Region in 2020. He's a really special guy who is always so supportive of Rebecca's dreams and somehow, makes them into a reality! 
Rebecca told Jamie about the Tucson Gem and Mineral Show in the summer of 2018 and they immediately booked their tickets to attend, and The Rutile was reborn!  He is our in-house photographer and just set up his jewelers bench to start setting stones and resizing rings.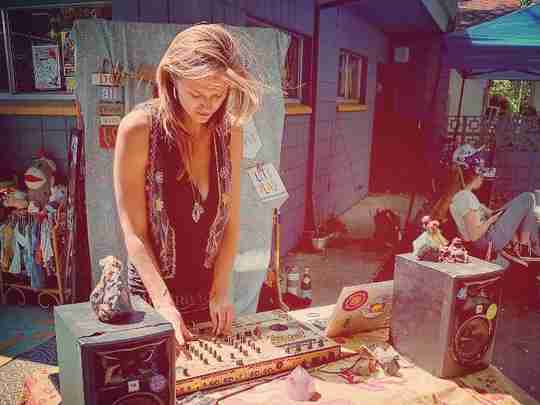 Atmos Stratus 
While we wait for Atmos to send us her bio, Rebecca is going to brag about her for a bit. Rebecca and Atmos met back in 2016 at the Wanee Music Festival in Live Oak, Florida, and became fast friends. Thanks to Facebook, they've stayed connected over the years. Rebecca posted that she needed some site help on Facebook one evening and Atmos was ready for the challenge! That has evolved to her writing our blogs and adding sparkly products to the site. She's an invaluable part of The Rutile team! Not only does she rock these things for The Rutile, she is also an amazing DJ (check out her SoundCloud here) and amazing momma. Atmos is such a blessing to everyone she meets.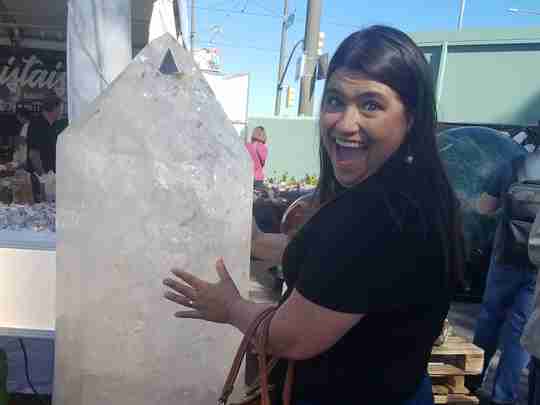 Shoshana Truman, GIA GG 
So while Sho isn't a part of The Rutile's day-to-day activities, she is Rebecca's best friend. Sho helps Rebecca and Jamie while out on buying excursions, acts as our jeweler, and is their favorite lapidary artist. You'll see Shoshana in a ton of our Tucson excursion photos. Becca and Sho met as diamond graders and Staff Gemologists at the Gemological Institute of America's world headquarters in Carlsbad, California. They instantly became fast friends. Both goofy gem-nerds, their love of gemstones, fuzzy dogs, and jam bands created a lifelong friendship. They dressed up as lepidolite (Becca) and emerald (Sho) with nail-head spicules for Halloween at GIA. They were the nerdiest kids in the laboratory. Shoshana has her own amazing jewelry company, My Meraki Jewelry. Please check out her store here, buy all the pretty things, and don't forget to tell her that we love her.