A Wedding Band for Joshie
Loves the look of white carbon fiber, the look of the black diamonds on the Valor, wants to incorporate lapis lazuli, and also some Nordic symbols.
Rebecca has been working with the fabricators for your custom ring at http://www.heavystonerings.com/  as they are one of our manufacturing partners.

Question: Do you have a metal picked out? If not, take a peek at our guide to metals here: https://therutile.com/pages/about-metals 
Nordic Runes for Consideration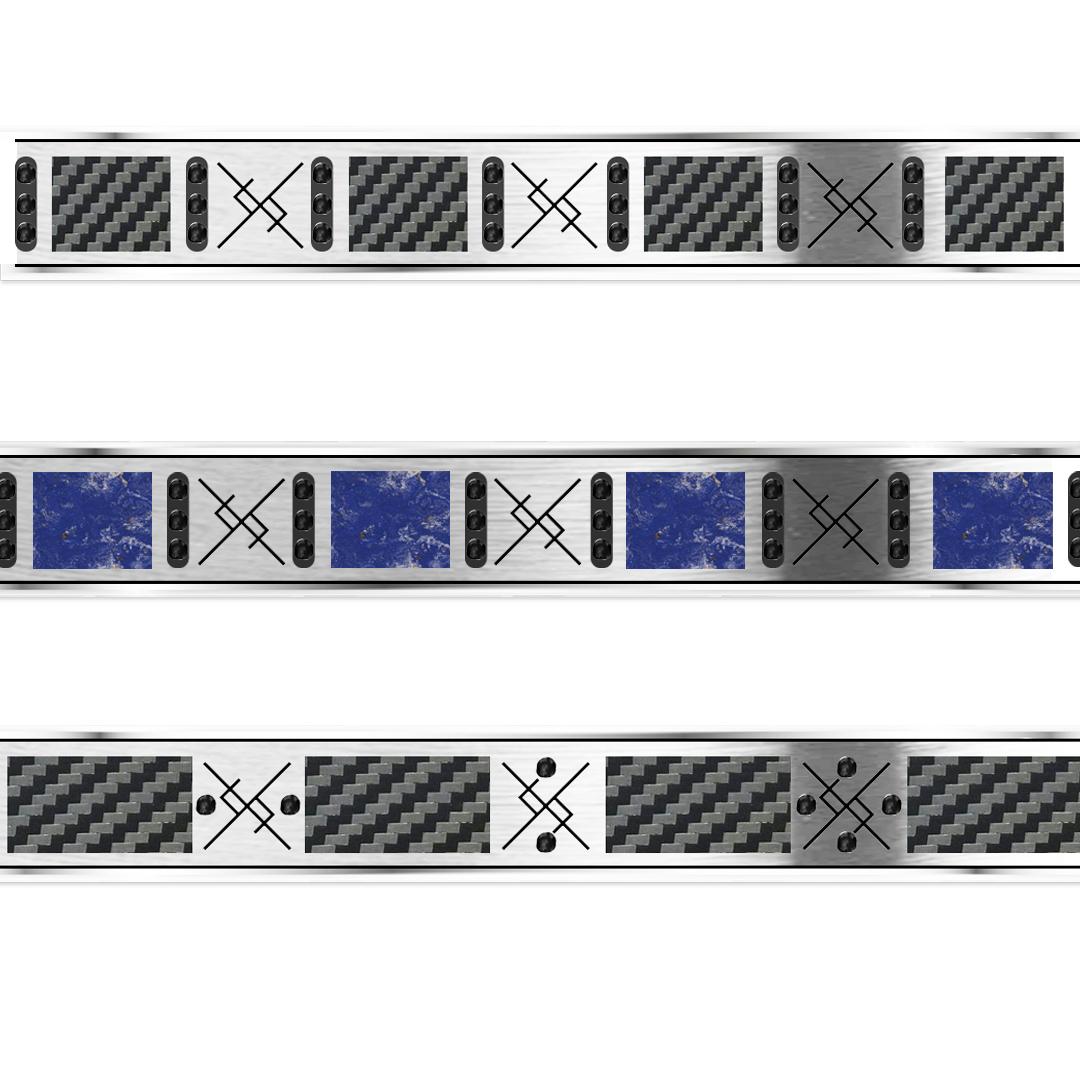 Here are a few designs that I just came up with and I'm totally open to all feedback.
We have a few things to think about. 
Sadly, the white/silver carbon fiber is not available for custom work. I'm super bummed about that! However, we can do lapis as shown in the middle band or darker carbon fiber as shown in the top and bottom bands 
I think the black diamonds will be a great addition to the runes! I'd play up the antiquing for sure.  On the bottom one, I have added a few different positions for single black diamonds for consideration. The top two have three black diamonds stacked on top of each other, similar to the Valor above but verticle instead of horizontal. 
 We can do any of the runes, but I have selected one that means eternal love for the example. If you see some other symbol that you would prefer, we can always swap that out. 
For these designs, I did a brushed center like the Valor, with a beveled high polish edge and a little line of antiquing between the edge and the design. All of these things are removable or changeable, this was just an idea dump to get your ideas flowing. 
For a Customer Order with The Rutile Ltd, the customer and The Rutile Ltd will enter into an agreement on price and timeline. 
Once the parties have agreed upon the price and delivery, the customer will put down a 50% non-refundable deposit for The Rutile Ltd to special order the item.
Once the custom order is complete, The Rutile Ltd will notify the customer and arrange delivery. The remaining 50% is due at delivery. 
Custom orders are non-returnable and exchanges are only available on a case by case basis within 15 days of delivery.  Customer pays all return shipping fees and item must be insured when shipping. The Rutile Ltd does not take liability for any loss due to shipping errors or lack of shipping insurance. Exchanges may incur a 25% restocking fee to bring the custom order to sellable condition. 
Due to current world circumstances, delays may occur. The Rutile Ltd will do everything in their power to make the deadline and will communicate with the customer immediately about any delays. 
By paying the 50% deposit below, the customer agrees to these terms.