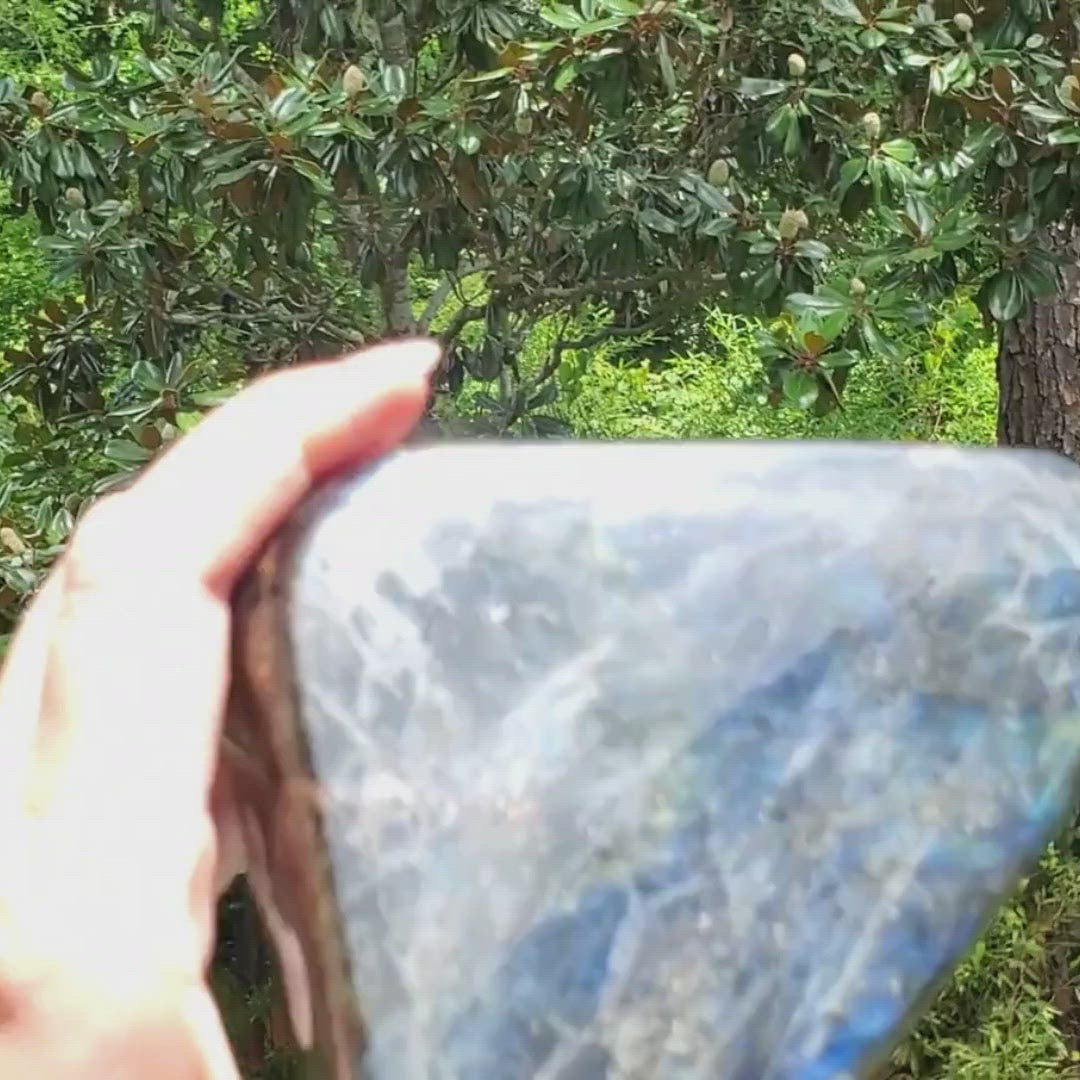 Polished Labradorite Desk Specimen
SKU: MIN022
Sale price

$75.00
Regular price
(/)
Labradorite is a plagioclase feldspar that exhibits a really cool phenomenon called labradorescence which is a fantastic play of color against the dark background. Labradorescence is caused by internal fractures in the mineral that reflect light back and forth, dispersing it into different spectrums of colors. In order to get this cool play of color, the cutter has to be very mindful of how the phenomenon is best exhibited because this isn't visible in every direction. This phenomenon is best shown in cabochons or in rounded specimens like these. The stone is named for the Labrador peninsula in Canada where it was first found in 1770. It's still found in Canada, as well as Mexico, Russia, and the USA. Keywords of labradorite are magic and protection, reminding us that we all have magical powers within us. We have four amazing labradorite specimens featured here!
Metaphysical: Labradorite stimulates the throat, third eye, and crown chakras. It helps us become aware of our own internal light. It is a great stone for people that feel stuck or feel they cannot properly express themselves. It gives us spiritual guidance, enhanced awareness, and psychic abilities. 
Main Stone: Labradorite

Weight

: 
MIN022: 3lb 3.2oz
MIN026: 1lb 13.5oz 

Dimensions

: 
MIN022: 5.1" x 4.75" x 2.45"
MIN026: 4.25" x 1.75" x 4.33"

Treatment

: None

Source

: The source of this stone is unknown, but labradorite can be found throughout the world with notable deposits in Canada, Mexico, Russia, and USA

Metaphysical

: Throat (5th), Third Eye (6th), Crown (7th) Chakras: Enhanced Awareness, Pure Expression, Psychic Abilities, Spiritual Guidance, Aura Cleansing
Cleaning: Running clean, cool water over labradorite will clean it instantly. Placing it under the light of a Full Moon is an extremely beneficial way to cleanse this stone as well. 
Polished Labradorite Desk Specimen
Sale price

$75.00
Regular price
Choose options