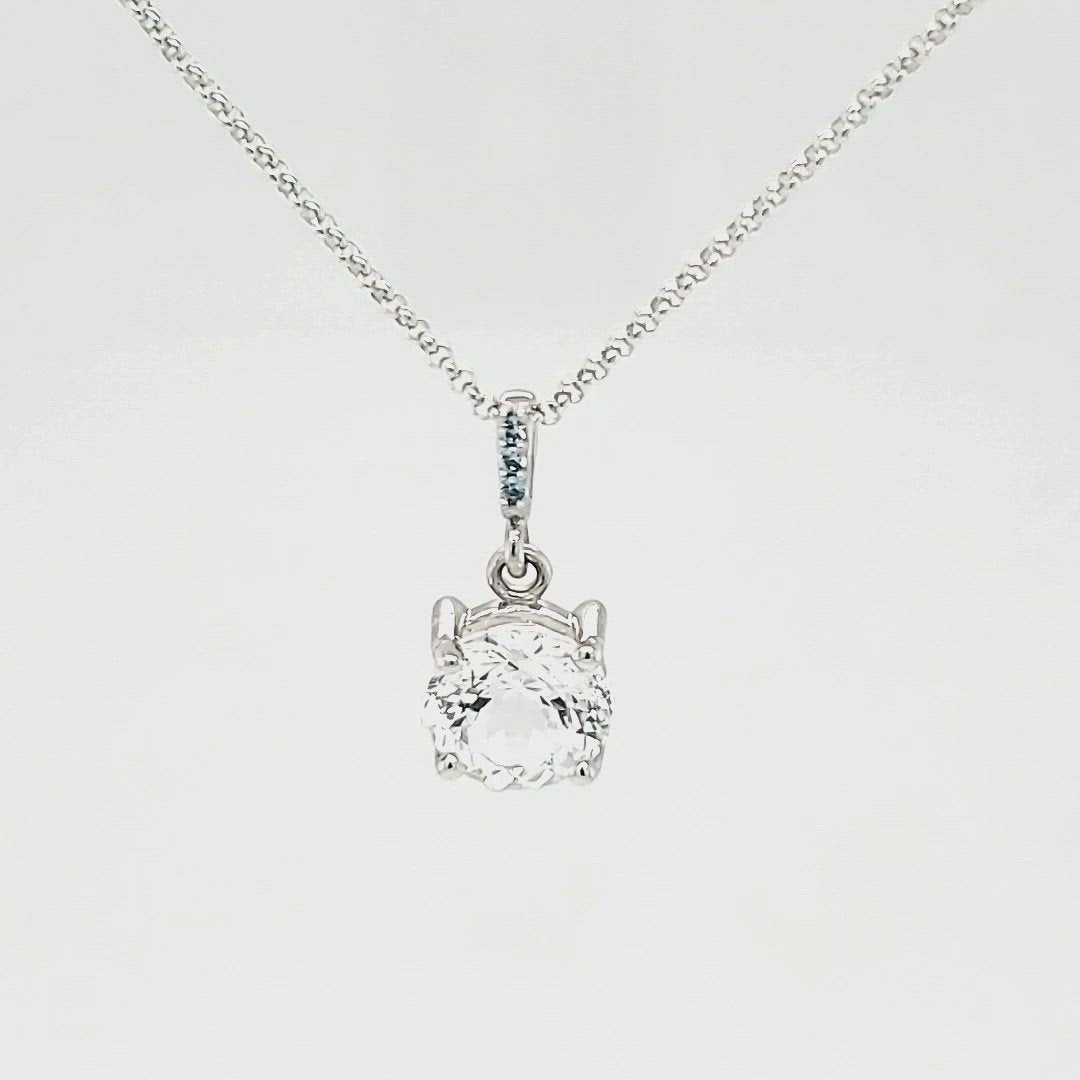 1.48ct Phenacite with Aquamarine Pendant in 14kt White Gold
SKU: PH001
Sale price

$925.00
Regular price
(/)
Nope, it's not a diamond, it's SO MUCH COOLER. Phenacite is incredibly scarce and most are usually very included so finding a specimen clean enough to facet is a very rare treat! 
This stone is a specialty for those who are gem nerds and those in the metaphysical field as others may find it a bit boring. It's just a clear crystal without anything cool in it?!  One of Rebecca's dear crystal healer friends called it "crystal LSD" because of the intense colors and sensations when used during meditation. Lightworkers like to use phenacite as a tool for light body activation and it's a pure white light energy. If you place phenacite on your third eye for a moment and remove it, it's common for even those inexperienced in crystal healing to still be able to feel the phenacite on their third eye for a long time after it is removed. 
Faceted phenacite, like this pendant, increases the mineral's already intense focus and energy. The phenacite paired with the handset aquamarine allows the wearer to feel grounded while still enjoying the benefits of this very "heady" stone. This stone emanates very strong energy, so we do not suggest that you wear it constantly, to sleep, or in times that you need to relax. 
If you are taking this piece to be repaired at a jeweler, please make sure they are aware that it is a phenacite so they can take the proper precautions to not damage the stone. It is a more obscure stone so most salespeople will not know this stone. Feel free to call Rebecca as she will be happy to speak with the salesperson or jeweler.
Phenacite (or Phenakite)     
• Weight: 1.48ct
• Dimensions:7.25mm x 7.29mm x 4.94mm 
• Treatment: None 
• Source: While the source of this specific stone is unknown, high-quality phenacite is found in Brazil, Sri Lanka, Madagascar, Mexico, Zimbabwe, Zambia, Norway, Russia, Tanzania, Norway, Russia, Switzerland, and Colorado. 
• Metaphysical: Third Eye (6th) and Crown (7th), third eye activation, inner visions, awakening the light body, interdimensional travel, can make the wearer go through an "initiation phase" where they learn a little more each time they wear it and then the stone asks the wearer to apply new spiritual learning to their life, attributed to telepathy, psychokinesis, prophetic visions, and remote viewing, manifesting inner images into the outside world, and expands spiritual understanding. Attributed to the healing of the brain, nerve damage, and increase brain function. 

Full Disclosure: There are a few pressure cracks under the prongs from when this stone is set. However, the prongs and connection with the stone are very secure and the small fractures do not detract from the beauty or integrity of the piece. 

Accent Stone: Aquamarine      
• Weight: 0.03ct total weight 
• Number of stones: 3
• Quality: AA
• Metaphysical: Throat (5th) and Heart (4th) Chakras, Cooling, Soothing, Enhancement of Clear Communication 

Metal: 14kt White Gold 

Rhodium Plated: This is an industry standard for all high-end 14kt white gold items to give a crisp white/silver color. All rhodium plating is subject to wear over time and can cause a white gold item to look less white.

Chain Length: 20 Inches

Chain Description: 1.1 mm Rolo Chain

Clasp: Lobster 

Total Weight: 1.745 dwt / 2.175 grams

Pendant Total Dimensions: 15.55mm x 7.29mm x 4.94mm
Remove your necklace before applying sunscreen, bug spray, or any other chemicals. It is suggested that you clean this ring with warm soapy water (liquid dish soap is best) or a dedicated jewelry detergent like The Rutile Jewelry Cleaner. Ultrasonic and steam cleaning is not suggested for phenacite. Always remove your phenacite jewelry before exercising or any vigorous activity. 
1.48ct Phenacite with Aquamarine Pendant in 14kt White Gold
Sale price

$925.00
Regular price
Choose options