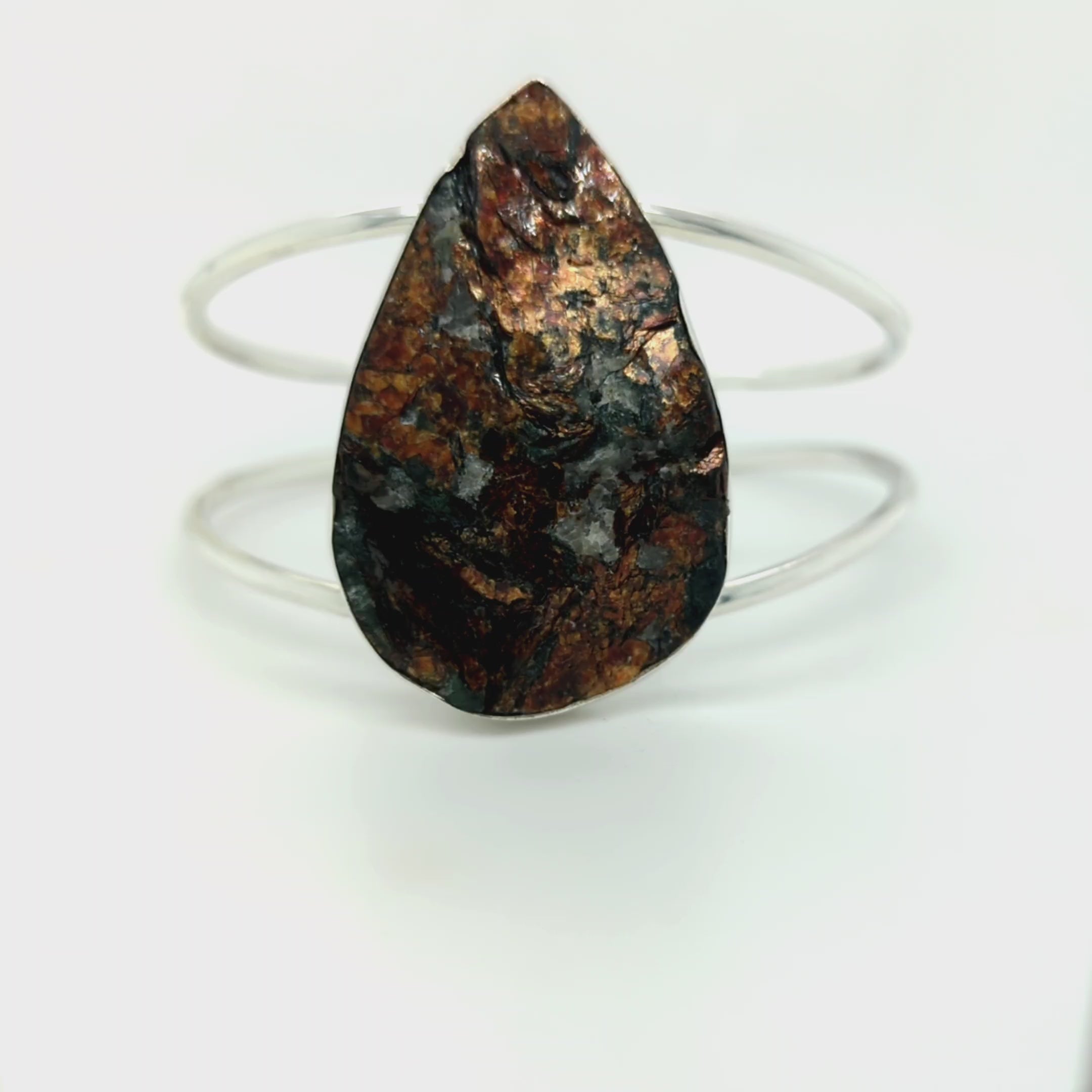 Astrophyllite Cuff Bracelet in Sterling Silver
SKU: AST004
Sale price

$275.00
Regular price
(/)
Be inspired by the rugged beauty of the Astrophyllite cuff bracelet, crafted from sterling silver and genuine Astrophyllite stone. The name Astrophyllite comes from the Greek word άστρον ("astron") for "star" and φύλλον ("phyllon") for "leaf" because of its growth habit of starburst-like sprays and brilliant cleavage. Handmade with love, this spiritual stone is said to unite all of your chakras and take your connection to a higher level - unlock your potential and take your journey to new heights!
Astrophllite
• Treatment: None
• Source: While the exact source for this stone is unknown, astrophyllite is found in Mont-Saint-Hilaire, Quebec, Canada; Pikes Peak, Colorado, US; Narsarsuk and Kangerdluarsuk, Greenland; Brevig, Norway; and the Kola Peninsula, Russia
• Metaphysical: 1st through 7th Chakras: Self-knowledge, realization of your multidimensional self, self-acceptance, forgiveness

Metal: Sterling Silver

Total Weight: 38.56g 

Dimensions: Astrophyllite is 1 7/8" long by 1 1/8" wide

The bracelet is easily adjustable by simply squeezing the cuff to fit your wrist.
Astrophyllite is delicate and should be worn with care. It is suggested that you clean this bracelet with warm soapy water or The Rutile Jewelry Cleaner. Neither ultrasonic cleaning nor steam cleaning is advised for astrophyllite. Always remove your jewelry before showering, exercising, or any vigorous activity. We suggest that you apply your sunscreen or perfume before putting on your jewelry to prevent the chemicals from damaging the stone.
Astrophyllite Cuff Bracelet in Sterling Silver
Sale price

$275.00
Regular price
Choose options