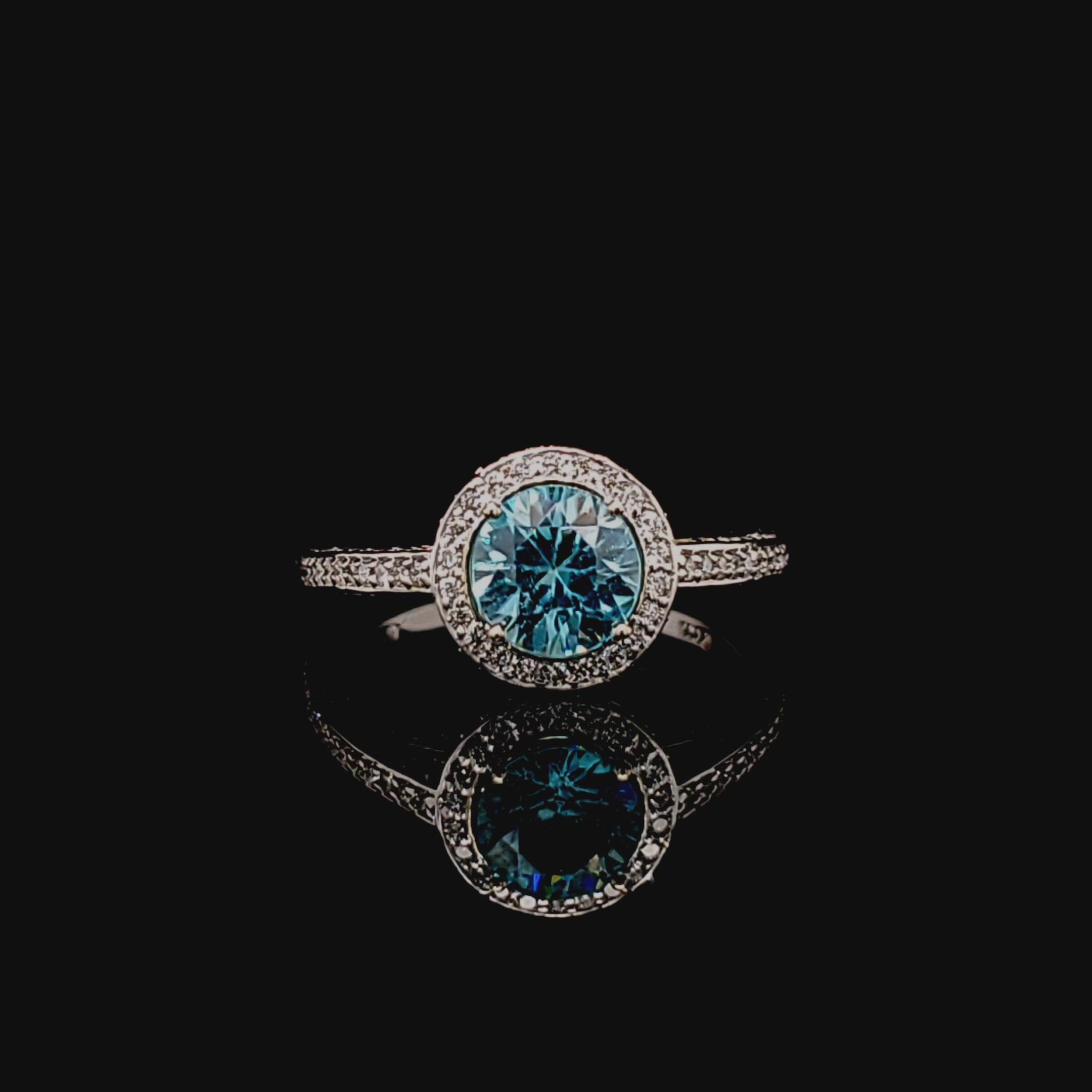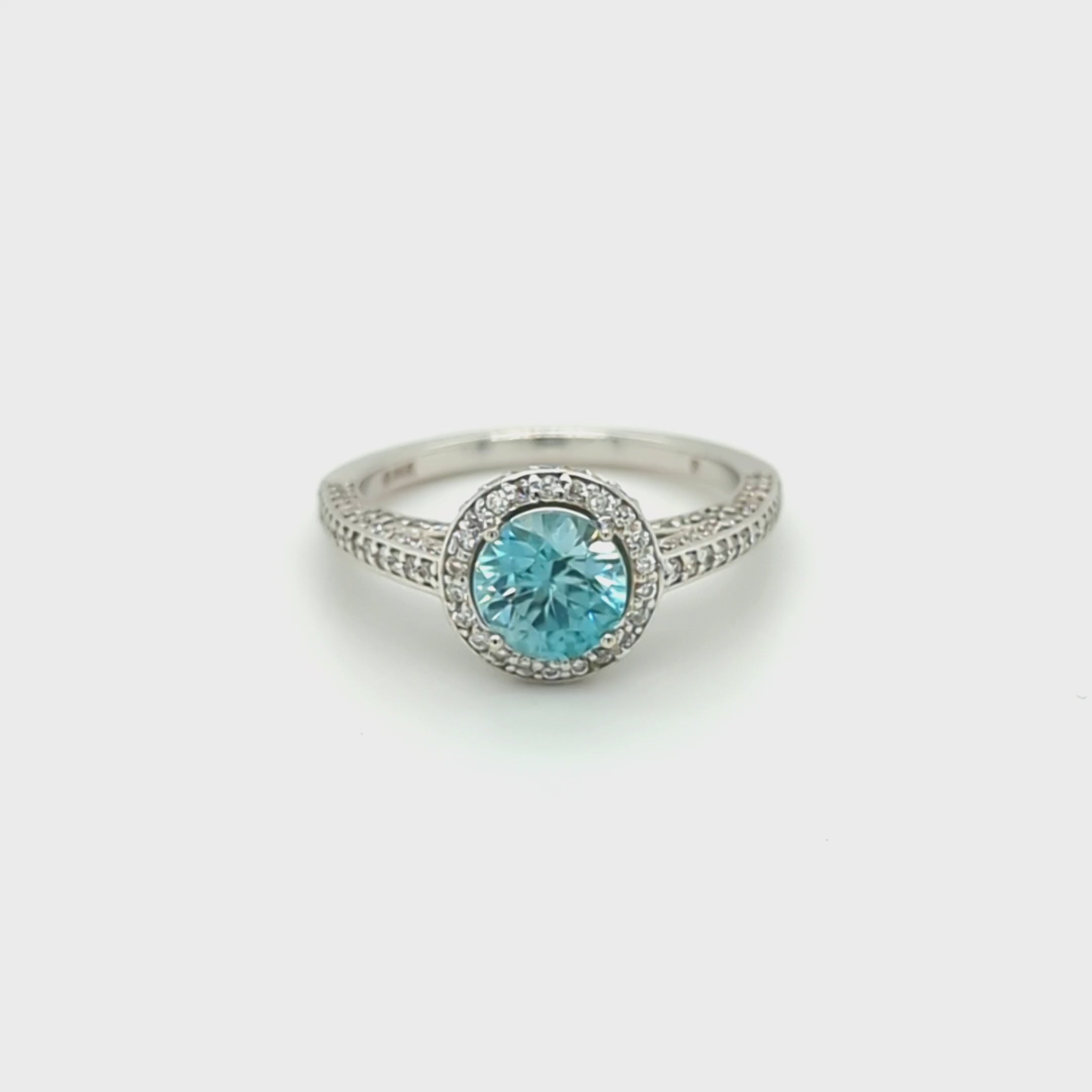 Blue Zircon and Diamond Halo Ring in 14kt White Gold
SKU: BZ002
Sale price

$1,345.00
Regular price

$1,845.00
(/)
Sparkle, sparkle, sparkle! This Blue Zircon's radiance dances in the light as your hand moves, mimicking the sun dancing across the Gulf's soothing waters, accented with just a sprinkle of diamonds. This beautiful ring has 1/2 carat of diamond and a 1.43ct blue zircon. 
Blue zircon helps make your dreams a reality and protects you from bad energies. It can help you be mindful in your everyday life and helps you overcome work stress. Sounds like we all could use a little blue zircon, right?
Blue Zircon    
• Weight: 1.43ct
• Dimensions: 6.32mm 
• Treatment: Heat Treated - a common Zircon treatment for brownish-red to brownish-yellow stones to create this beautiful blue color
• Source: While this specific stone's source is unknown, gem-quality Zircon has been found in alluvial (water, such as rivers) deposits in Sri Lanka, Cambodia, Myanmar, France, Tanzania, and Vietnam for hundreds of years and recently found in Australia, Nigeria, and Madagascar. 
• Metaphysical: All chakras, increased life force energy (prana), grounding, focus, helps you make your dreams and ideas into your reality, keeps away intrusive and dangerous energy when worn as jewelry, helps increase mindfulness in our everyday tasks, a connection between spirit and earth, helps balance work stress, and can magnify almost any other stone it is worn with.  

Accent Stone: Diamond     
• Weight: 0.50ct total weight 
• Number of stones: 134
• Treatment: None 
• Metaphysical: Intensity, radiance, sovereignty 

*Matching band available upon request. Reference: 67803:104:P 

Metal: 14kt White Gold 

Rhodium Plated: This is an industry-standard for all high-end 14kt white gold items to give a crisp white/silver color. All rhodium plating is subject to wear over time and can cause a white gold item to look less white. Rhodium wear is usually dependent on how often an item is worn and can be subject to the wearer's skin acidity. A local jeweler is able to re-dip your 14k white gold items for a negligible amount, usually between $20-35, which will make your item look just like new. Most pendants with casual wear do not need to be dipped more than once every 5-10 years. 

Size: 7 - Easily sizable

Total Weight: 3.40g
Remove your ring before applying sunscreen, bug spray, or any other chemicals. Prolonged exposure to bright light may change the color. It is suggested that you clean this ring with warm soapy water (liquid dish soap is best) or a dedicated jewelry detergent like The Rutile Jewelry Cleaner. Ultrasonic and steam cleaning is not suggested for Zircon. 
Blue Zircon and Diamond Halo Ring in 14kt White Gold
Sale price

$1,345.00
Regular price

$1,845.00
Choose options