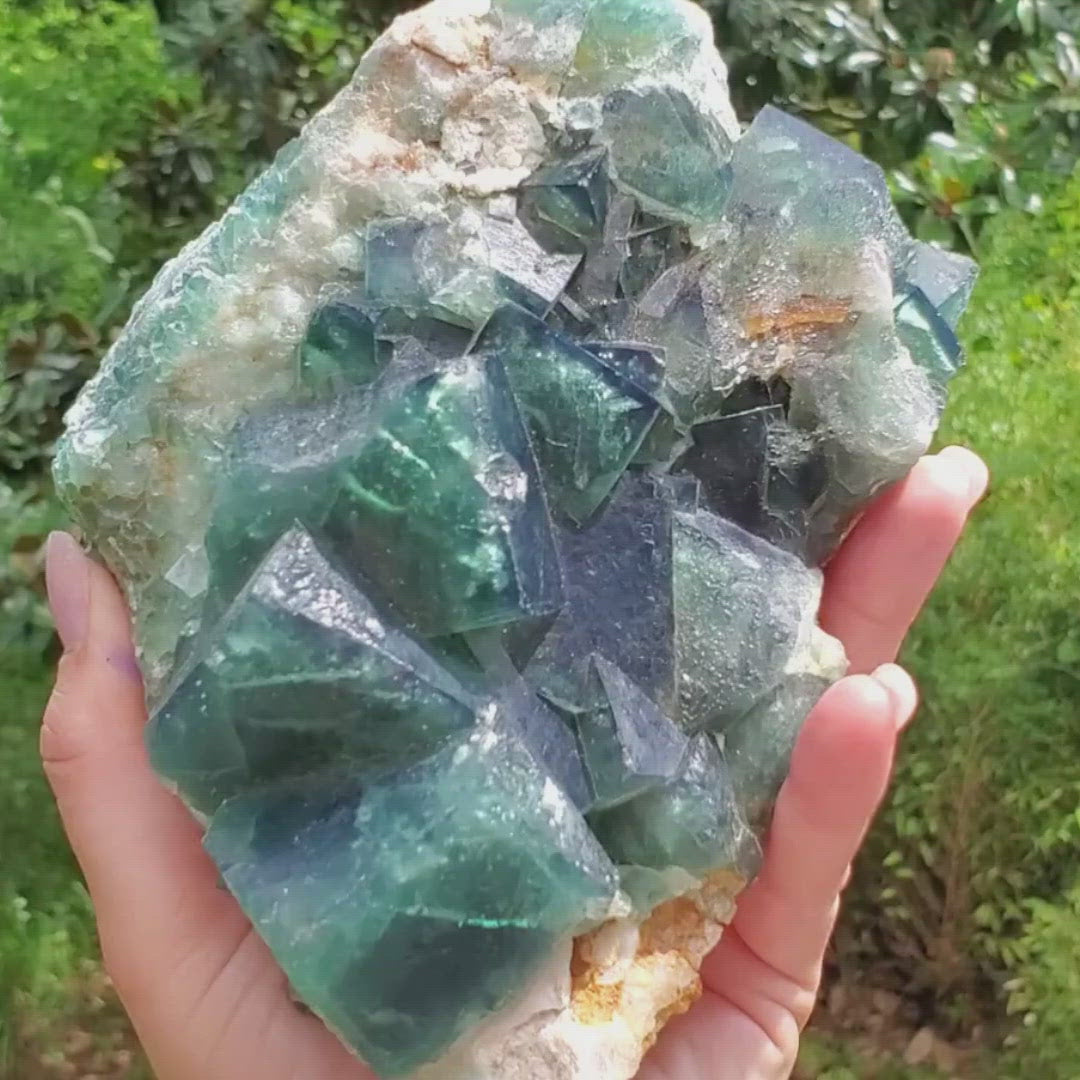 Fluorite Specimen
SKU: MIN025
Sale price

$185.00
Regular price
(/)
Fluorite is also called Fluorspar, and is a calcium fluoride. Fluorite was named in 1797 by Carlo Antonio Galeani Napione from the Latin, "fluere" which means "to flow" (like the word "flux"). The term fluorescence is derived from fluorite, which will often markedly exhibit this flowing effect of light. Fluorite is commonly formed in hydrothermal veins with lead and zinc in the earth's crust and in cavities in sedimentary rocks. Over the eons, these fissures are constantly opening and closing, sometimes cutting off the fluids needed for fluorite to form. It's the subtle changes in the chemistry of these fluids that causes the common color zoning and banding in the crystals as they grow. The most common colors of fluorite are purple, blue, green, yellow, or colorless, and less common colors are pink, red, white, brown, and black. The color of fluorite is determined by factors including impurities, exposure to radiation, and the absence or voids of the color centers. Metaphysically, fluorite helps us enhance our mental abilities and have clarity, helps us make decisions and also helps clear energy fields. This makes it really helpful for those who are juggling a lot of things at the same time.
Metaphysical: Fluorite stimulates the heart, throat, and third eye chakras. It attunes us with our deepest desires while protecting our emotional bodies and cleansing our auric field. It promotes protection and dispels negative energy while allowing us to see things from a different, perhaps cleaner, perspective. 

Main Stone: Fluorite 

Weight

: 3lb 13.9oz

Dimensions

: 5.5" x 5" x 5" 

Treatment

: None

Source

: The source for this stone is unknown, but fluorite can be found throughout the midwestern US, Germany, Czech-Republic, and France

Metaphysical

: Heart (4th), Throat (5th), Third Eye (6th) Chakras: Divine Compassion, Understanding, Aura Cleansing, Emotional Protection, Dispels Negativity, Enhanced Awareness, Mental Stability 
Cleaning: Fluorite is an absorber of negative energy so it is best to cleanse it frequently. Utilizing the light of the Full Moon, incense, smudging, and running cool water are great ways to recalibrate fluorite and bring it back to its highest potential. Do not leave it soak in water and do not let it sit out in the sunlight for too long. 
Fluorite Specimen
Sale price

$185.00
Regular price
Choose options