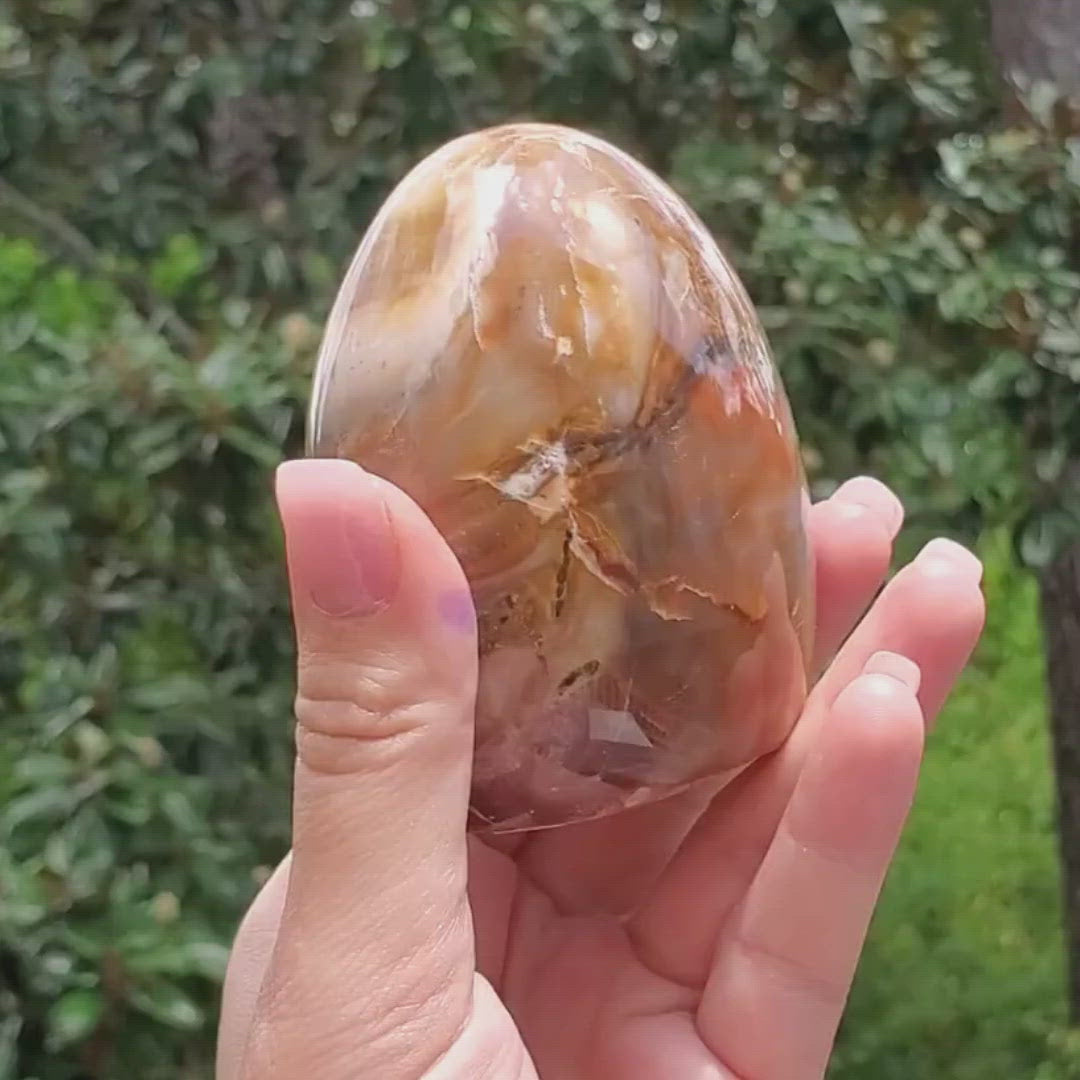 Polished Petrified Wood
SKU: MIN020
Sale price

$75.00
Regular price
(/)
Did you know that petrified wood is a member of the quartz family as a silicon dioxide? It's technically a pseudomorphosis of chalcedony. Petrified wood is formed when a freshly downed tree is covered in fine-grained sedimentary rock which prevents oxygen from decaying the tree. Silica from the sediment starts to fill the voids of the trees Over millions of years, these minerals crystallize within the wood's cellular structure forming the silicon dioxide material known as petrified wood. The wood, no longer wood at this point, takes on the hues of the minerals that fill its pores.

Slow and steady are the keywords for petrified wood, just like the petrification process. Like a tree, petrified wood encourages a strong body, patience, and inner peace. It's also attributed to past life recall which totally relates to a petrified tree's past life.
Metaphysical: Petrified wood carries the high vibrations of quartz and stimulates all the chakras from the root to the crown. It promotes grounding and mental clarity, enhanced awareness, psychic abilities, and is overall very cleansing to the spirit. 

Main Stone: Petrified Wood

Weight

: 15.0oz / 425.243g

Dimensions

: 3.25" x 2.75" x 2.8"

Treatment

: None

Source

: Petrified wood can be found throughout the world with some notable deposits in Oregon, Canada, Texas, Arizona, and Washington

Metaphysical

: All Chakras: Grounding, Security, Enhanced Awareness, Pure Expression, Psychic Abilities, Spiritual Guidance, Inner Peace, Divine Love, Divine Wisdom, Manifestation, Cleansing, Intuition
Cleaning: Petrified wood can be cleaned using soft cloths with mild soaps. Do not immerse this in water and stay away from harsh chemicals. The powers of a Full Moon, incense, and smudging are other great ways to clean this specimen.  
Polished Petrified Wood
Sale price

$75.00
Regular price
Choose options