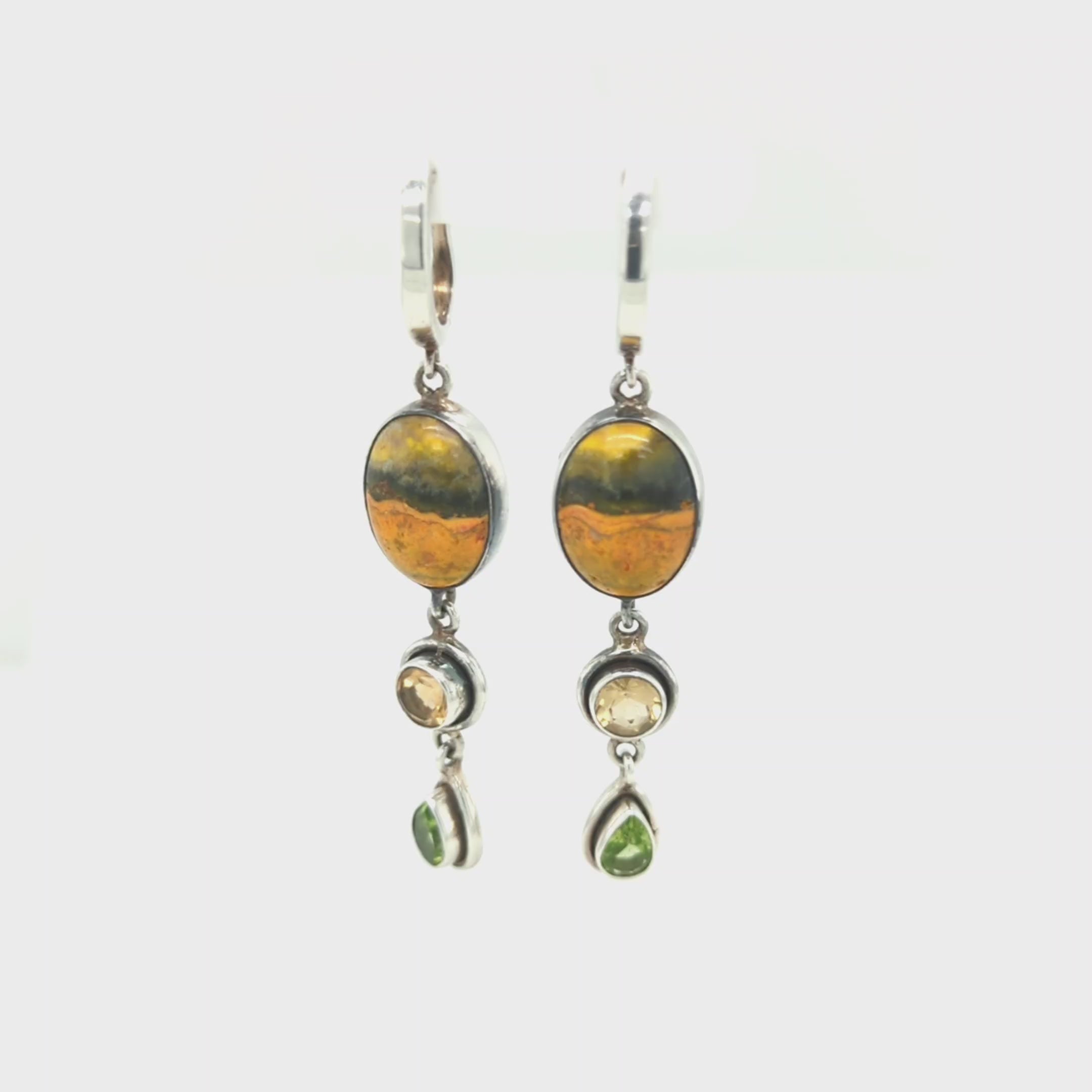 Rugged Bumblebee Jasper, Citrine, and Peridot Earrings in Sterling Silver
SKU: BBJ002
Sale price

$150.00
Regular price
(/)
These earrings have a rustic beauty, pairing large bumblebee jasper stones with citrine and peridot for an impressive look! The stones paired in these earrings are a great combination for focusing your creativity, motivation, and determination into manifesting something that brings you wealth, abundance, and well-being. We love the slight patina on these earrings, giving them a rustic and rugged vibe! 
Bumblee jasper isn't actually jasper, but a conglomerate made of sulfur (yellow), calcium & aragonite (white), orpiment & realgar (orange), and pyrite (black) with all of those colors coming together to resemble a sweet bumblebee! Bumblebee jasper is only found in the Papandayan Volcano, West Java Province of Indonesia, and was only discovered in the 1990's so it should be regarded as a rare mineral. 

Bumble Bee Jasper
• Treatment: None
• Source: Papandayan Volcano, West Java Province, Indonesia
• Metaphysical: Sacral (2nd) and Solar Plexus (3rd) Chakras: Strength, creativity, opportunities, inspiration, courage, transformation, passion, focus, manifestation, determination, motivation

Accent Stone: Peridot
• Metaphysical: Increase, prosperity, warmth, well-being

Accent Stone: Citrine
• Metaphysical: Manifestation, personal will, mental clarity, creativity

Metal: Sterling Silver

Total Weight: 13.11g

Dimensions: Total earring length 2 5/8" long by1/2" at the widest point of the bumblebee jasper

Bumblebee Jasper can be quite soft, so care should be taken when cleaning and wearing these earrings. It is suggested that you clean this piece only with warm water
and a polishing cloth to control tarnish. Avoid Ultrasonic and Steam cleaning for these earrings. Always remove your jewelry before exercising or any vigorous activity. We suggest that you apply your sunscreen or perfume before putting on your jewelry to prevent the chemicals from damaging the stones or gold.
Rugged Bumblebee Jasper, Citrine, and Peridot Earrings in Sterling Silver
Sale price

$150.00
Regular price
Choose options