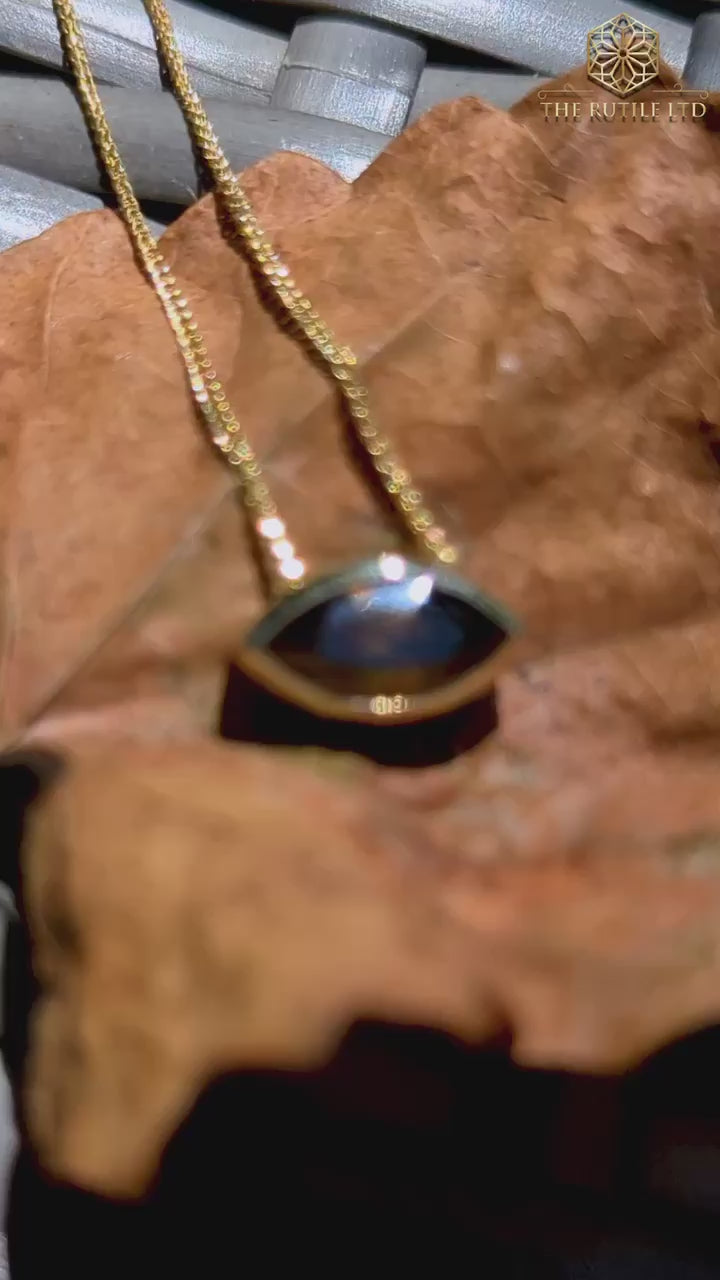 Sphene and Lazulite Pendant in 14k Yellow Gold
SKU: SPH006
Sale price

$1,475.00
Regular price
(/)
This sphene's warm and yummy cognac color only comes second to its sparkle! This beautiful stone will warm you up like a warm brandy in front of the fireplace. Sphene is also called titanite and is known for its strong trichroism, where you can see yellow, green, and red sparkles in this unique stone. Sphene is a softer stone so we recommend that you remove this necklace when you're going to be doing anything strenuous like rock-climbing or moving heavy boxes to prevent it from being damaged.
This necklace has a little secret... 7 lovely blue Lazulites on the bottom of the pendant. Adding lazulite to sphene helps stimulate your mental abilities such as when you're working on a hard project, learning a new language, or some action that requires a lot of attention to details 

Sphene    
• Weight: 2.04ct
• Dimensions: 11.57mm x  5.7mm Marquise  
• Treatment: None
• Source: While the specific source of this stone is unknown, sphene is mined in the Kola Peninsula of Russia, the European Alps, Madagascar, and the USA.
• Metaphysical: Third Eye (6th) and Solar Plexus (3rd) Chakras, mental clarity and quickness, accelerated learning, intuition, focused will, of storm and wind elements. 

An increased focus of mental power occurs when sphene is paired with lazulite, making it a powerful piece of metaphysical jewelry. 

Accent Stone: Lazulite     
• Measurements: 1.5mm
• Treatment: None Known
• Quality: AAA
• Metaphysical: Psychic abilities, mental focus, and discipline, enhancing transcendent brain function  

Metal: 14kt Yellow Gold 

Chain Length: 18" Rounded Cable Chain with Lobster Clasp

Total Weight: 4.81g
While you can enjoy your sphene every day, there are a few rules because it's a collector's stone and a potential fragile stone if you hit it just the right (or wrong) way. Remove your necklace before vigorous activity, applying sunscreen, bug spray, or any other chemicals. You should clean this necklace with warm soapy water (liquid dish soap is best) or a dedicated jewelry detergent like The Rutile Jewelry Cleaner. Sphene should not be cleaned in an ultrasonic or steam cleaned. 
Sphene and Lazulite Pendant in 14k Yellow Gold
Sale price

$1,475.00
Regular price
Choose options