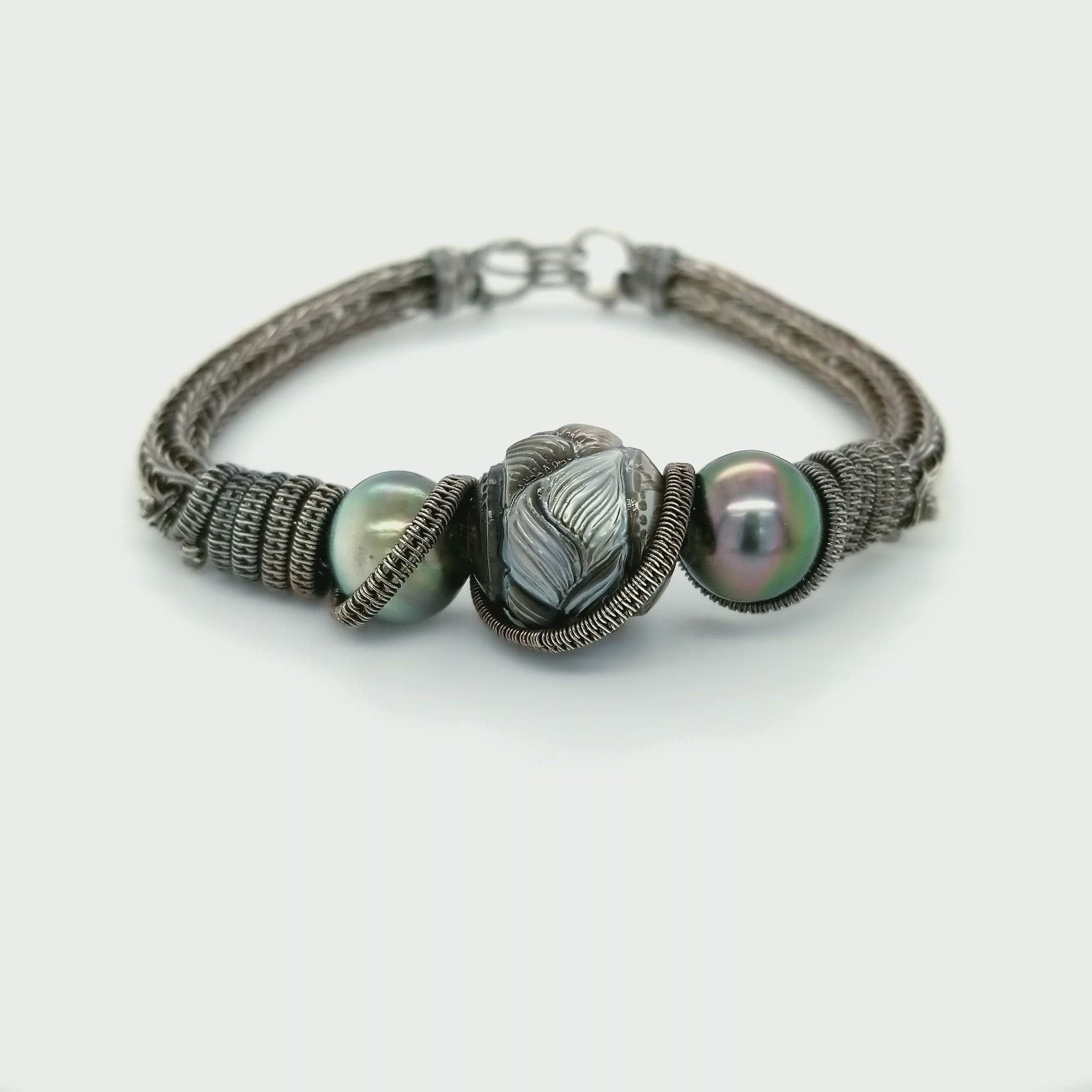 "The Viking" - Handcarved Tahitian Pearl Bracelet in Silver
SKU: PB001
Sale price

$925.00
Regular price
(/)
This Viking braid bracelet was created using millennial techniques to create a stunning and rugged effect with a double Viking knit. This bracelet features a 13mm hand-carved natural Tahitian pearl and 2 smooth matching accent Tahitian pearls of varying natural colors. The pearls are sourced from Tahiti, the silver bracelet is handmade in the USA. Please note that bracelet is silver, not sterling silver, so it will have a gorgeous aged patina. These beautiful Tahitian pearls are not dyed and their color is completely natural so there will be slight color variations from the bracelet shown. This bracelet is unisex and available in 6.5", 7", 7.5", 8", and 8.5". We stock this bracelet in 7.5" and the other sizes are available in approximately 15 days.
Carved Tahitian Pearl    
• Description: 13mm AB Grade Semi-Round pearl with Very Good Luster
• Treatment: None 
• Source: Tahiti
• Metaphysical: Crown (7th) Chakra: Angelic Attunement, Divine Intervention, Mental Strength, Focus, Spiritual Guidance 

Accent Pearls: Uncarved Tahitian Pearls
• Description: Two matching AB Grade Semi-Round Pearl with Very Good Luster

Metal: Silver

Length: 6.5", 7", 7.5", 8", and 8.5" available 

Dimensions: The flexible metal bangle measures 0.23" wide

Clasp: Secure Hook Closure

Total Weight: 23.97g / 15.41dwt
This bracelet is suitable for everyday use but must be worn with care. Make sure that pearls are the last thing you put on and the first thing you take off. Always wipe down your pearls with a soft cloth after wearing and do not store them in an airtight container for extended periods of time. It is suggested that you clean this bracelet with warm soapy water or a dedicated jewelry detergent like The Rutile Jewelry Cleaner. Ultrasonic and steam cleaning is not suggested for this piece.
"The Viking" - Handcarved Tahitian Pearl Bracelet in Silver
Sale price

$925.00
Regular price
Choose options