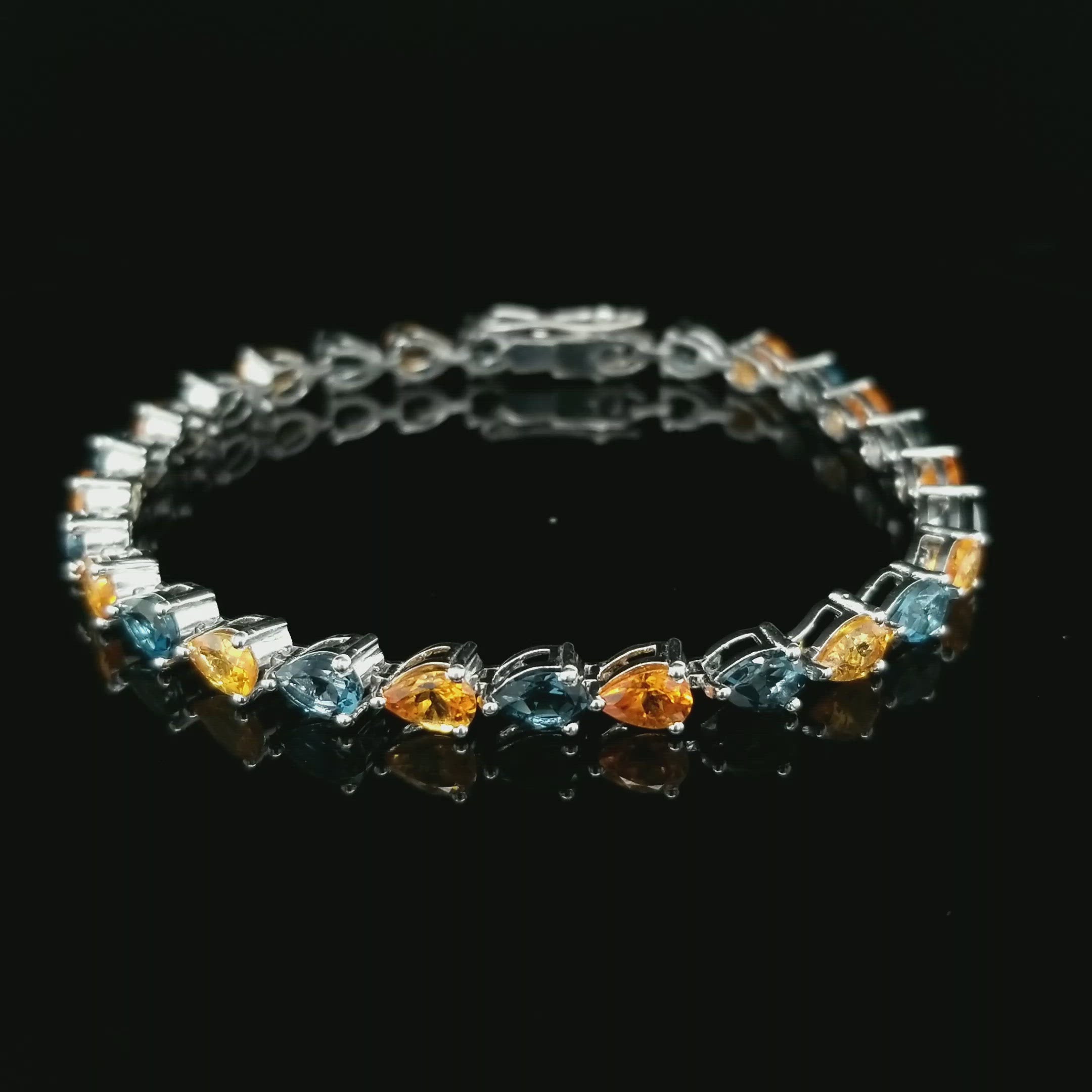 Tailgate Sparkle - Signature Gemstone Tennis Bracelet in Sterling Silver
SKU: AUB001
Sale price

$325.00
Regular price
(/)
For those who like a little sparkle with their school cheer, here's the perfect way to be the best dressed at the tailgate! 
This is it. It's clean, crisp, and très chic! Currently available in a Burnt Orange Spessartite Garnet and Navy-colored London Blue Topaz. More color combinations coming very soon! 
Click here to learn more about Spessartite Garnet
London Blue Topaz 
• Treatment: Typically heat-treated which is a permanent treatment - a common treatment  
• Source: While the exact source for these stones is not known, topaz is found in Brazil, Afghanistan, Australia, Myanmar (Burma), China, Germany, Japan, Madagascar, Mexico, Namibia, Nigeria, Pakistan, Russia, Zimbabwe, Sri Lanka, Ukraine, and the USA.
• Metaphysical: Throat (5th) and Third Eye (6th) Chakra. Enhancement of mind and communication, clarity of mental processing, decisions on what you want and don't want in life, a magnifier of psychic abilities, integrate lessons learned in life, calming and soothing effect on the emotional body, enhances the ability to communicate deepest feelings and speak your ultimate truth. 

Spessartite (or Spessartine) Garnet
• Treatment: None
• Source: While the exact source of these stones is unknown, spessartite is usually found in Myanmar, Brazil, China, Kenya, Madagascar, Sri Lanka, Tanzania, and the USA
• Metaphysical: Root (1st), Sacral (2nd), Solar Plexus (3rd) Keywords: Creativity, Health, Cleansing to the Aura, Manifestation, Attraction, Sexuality, Spessartine Garnet increases the speed at which our intentions become manifestations through reconnecting us with Divine Source. It is a powerful stone of attraction and can help clear one's auric field of disharmony allowing one to be open to receiving like energies that are harmonious with our life purpose. Spessartine Garnet stimulates all aspects of creativity and can increase fertility, creative inspiration, physical passion, and intuition. It can encourage optimism and counter fear.

Metal: Sterling Silver

Bracelet Size: 7.25" 

Clasp: Sterling Silver plunger clasp with security latch 


These bracelets can be worn daily but some caution is needed. Although garnet is durable in the ultrasonic, we suggest this bracelet should not be cleaned in an ultrasonic since blue topaz does not like the heat and is not suggested for steam cleaning. e suggest that you clean this bracelet with warm soapy water or a dedicated jewelry detergent like The Rutile Jewelry Cleaner. It is always suggested that you remove your jewelry before engaging in vigorous activities to prevent damage.
Tailgate Sparkle - Signature Gemstone Tennis Bracelet in Sterling Silver
Sale price

$325.00
Regular price
Choose options