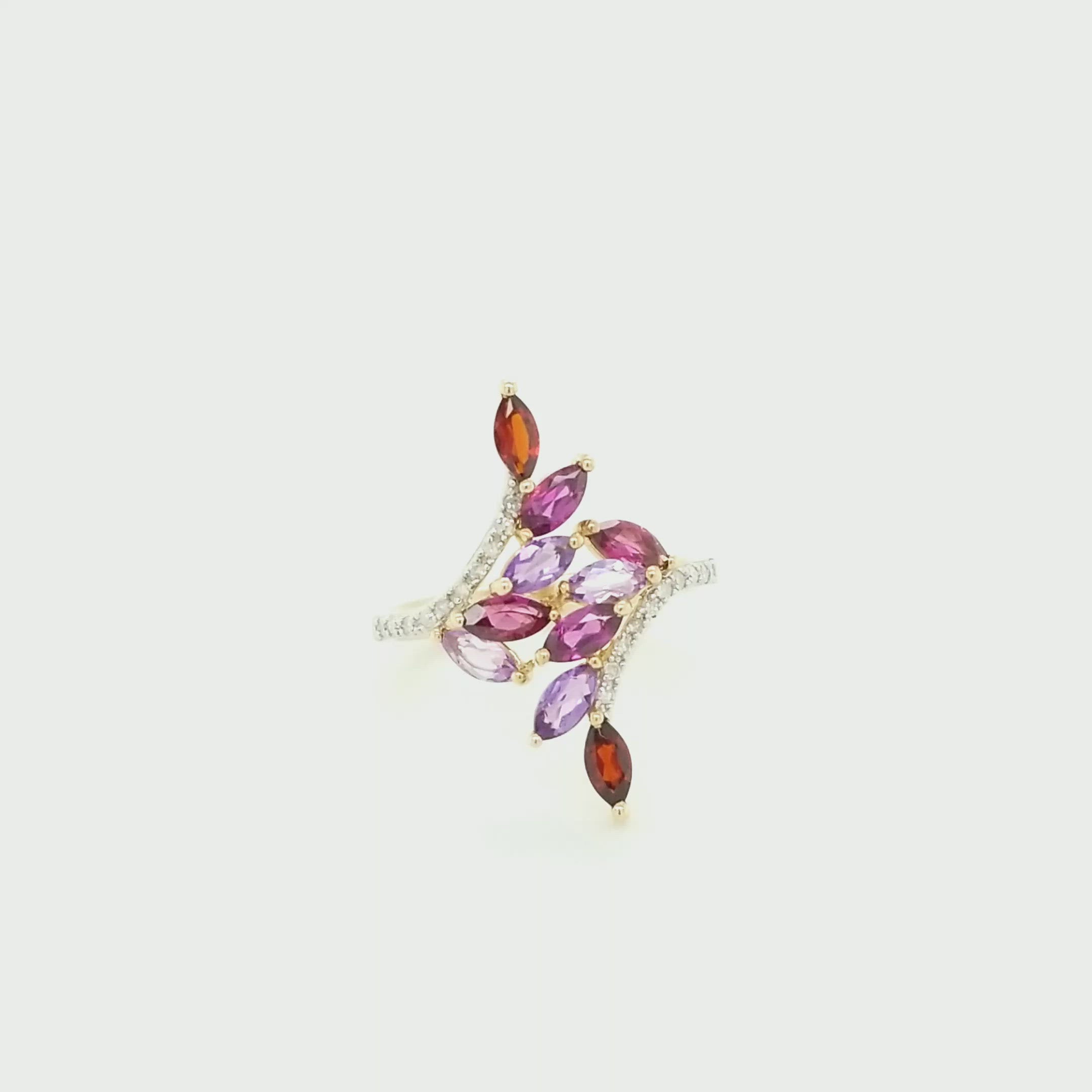 Rhodolite Garnet, Amethyst, Almandine Garnet, and Diamond Bypass Ring in 10kt Yellow Gold
SKU: G017
Sale price

$350.00
Regular price
(/)
A beautiful smattering of red, deep rose, and purple gemstones with fine white diamond accents create a stunning effect that takes up most of your finger! This ring is very comfortable to wear and is not heavy or awkward despite its big look. It is in 10k gold, so it will have great durability to wear often. Whoever gets this gorgeous ring is one lucky person!
Click here to learn more about Garnet
Almandine Garnet 
• Treatment: Garnet is typically not treated 
• Source: While the exact source for these stones is unknown, Almandine is typically found in Asia Minor 
• Metaphysical: Root Chakra (1st), Strength, Protection, Security, Endurance, Grounding, ManifestationAlmandine Garnet activates the Base Chakra, arousing the powerful energies of Kundalini, invigorating a sense of grounded protection and physical endurance.

Rhodolite Garnet    
• Treatment: Garnet is typically not treated 
• Source:  Although the specific source for these stones is unknown, high-quality rhodolite is found in Brazil, India, Madagascar, Sri Lanka, Tanzania, and Zimbabwe.
• Metaphysical: Root (1st), Heart (4th), Crown (7th), Emotional Lightening, Spiritual Joy, Compassion, Divine Love, Self Worth, Inner Alignment

Accent Stone: Diamond     
• Treatment: None 
• Clarity: I1 - These stones are a little hazy but they're still beautiful
• Metaphysical: Intensity, radiance, sovereignty 

Accent Stone: Amethyst    
• Treatment: Typically heat-treated which is a permanent treatment - a common treatment
• Metaphysical: Peace, Divine Connection, Creativity, Self-Illumination, Humility, Balance, Enhanced Meditation, Purifier, Balancer, Manifestation

Metal: 10kt Yellow Gold 

Size: 7 - Easily sizable 

Item Totals

Total Weight: 2.91g / 1.87dwt
It is suggested that you clean this ring with warm soapy water or a dedicated jewelry detergent like The Rutile Jewelry Cleaner. We still suggest that you apply your sunscreen or perfume before putting on your jewelry to prevent the chemicals from damaging the stone or the gold.  Always remove your jewelry before vigorous activity or sleeping.
Rhodolite Garnet, Amethyst, Almandine Garnet, and Diamond Bypass Ring in 10kt Yellow Gold
Sale price

$350.00
Regular price
Choose options